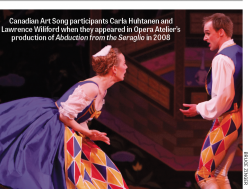 There have been a number of suggestions in recent months that in Toronto the vocal recital is in a very delicate state. The music critic John Terauds referred in his blog to "the near extinction of the vocal recital from Toronto's concert scene over the past two seasons." It is easy to back up that statement: the Aldeburgh Connection ceased to be after 31 glorious seasons; the celebrity recitals at Roy Thomson Hall all but disappeared a few years ago; the four-recital series at the Glenn Gould Studio, which was not well publicized and which was poorly attended, has gone. Mervon Mehta, RCM's executive director of performing arts, said in a recent interview that Koerner Hall was simply not the right place for vocal recitals. He mentioned that the tenor Ian Bostridge, whose 2005 recital in Roy Thomson Hall had been well attended, drew only a small audience there.
But not everything is doom and gloom. As Terauds acknowledged, there have been many vocal recitals in the (free) lunchtime series in the Richard Bradshaw Amphitheatre in the Four Seasons Centre; Music Toronto, although its programs centre on the piano and on chamber music, has in the last two years presented Erin Wall and Phillip Addis; a new (four-concert) series has started at Rosedale Presbyterian Church directed initially by Rachel Andrist and John Greer and now by Andrist and Monica Whicher. Vocal recitals have also come back to Koerner Hall: recently we had the bass-baritone Luca Pisaroni and the baritone Dmitri Hvorostovsky will be singing there on June 1; the 2014-15 season promises the tenor Marcello Giordani, the baritone Christian Gerhaher and the mezzo-soprano Anne Sofie von Otter. Last summer Toronto Summer Music gave us Philippe Sly and Sanford Sylvan. Their line-up for the summer of 2014 has not yet been announced but we already know that the baritone François Le Roux and the collaborative pianist Graham Johnson will be among the mentors. And we should not forget that young singers (or their agents) from time to time book venues like the Heliconian Hall for song recitals.
Wiliford and Philcox: One of the most interesting recent developments is the Canadian Art Song Project, initiated and directed by the tenor Lawrence Wiliford and the collaborative pianist Steven Philcox. The aims of the Project are best given in its mission statement: "To foster the creation and performance of Canadian repertoire by commissioning Canadian composers to write for Canadian singers; to facilitate a collaborative process between the composer and the performer; and to promote artistic excellence and the Canadian experience in the living art of song." Past commissions have included Sewing the Earthworm by Brian Harman (2012; sung by the soprano Carla Huhtanen), Cloud Light by Norbert Palej (2013) and Extreme Positions and Birefringence by Brian Current (also 2013; recently performed by the soprano Simone Osborne). 2014 brings us Moths by James Rolfe (text by Andre Alexis) and a new work by Peter Tiefenbach (text by James Ostine; to be performed by the baritone Geoffrey Sirett). For 2015 Marjan Mozetich will be writing a new work to be sung by the mezzo Allyson McHardy; for 2016 there are plans to perform and perhaps record unpublished songs by Healey Willan (apparently 100 or so exist!); for 2017 Canada's sesquicentennial will be marked by a new composition by Ana Sokolović for soprano, mezzo, tenor and bass with texts from across Canada, to be performed by members of the Ensemble Studio of the Canadian Opera Company.
This month the Canadian Art Song Project will unveil its first CD, on the Centredisc label. All the works on the disc are by Derek Holman and they include Ash Roses (1994; written for the young Karina Gauvin), Now Sleeps the Crimson Petal (2007), The Four Seasons (2009; written in commemoration of Richard Bradshaw) and three Songs for High Voice and Harp (2011). The CD will be launched at a recital by Mireille Asselin, soprano, Lawrence Wiliford, tenor, Liz Upchurch, piano, and Sanya Eng, harp (Canadian Music Centre, March 7). The songs performed by Wiliford were written with his voice in mind; he also gave the first performances of The Four Seasons (with Upchurch) and the Songs for High Voice and Harp (with Eng). The Holman disc will also be available at "A Celebration of Canadian Song" in the free lunchtime series at the Richard Bradshaw Amphitheatre on March 27. At this concert the premiere performance of James Rolfe's Moths will be given by Brett Polegato, baritone, and Steven Philcox; Colin Ainsworth will be singing excerpts from Derek Holman's A Play of Passion; the soprano Monica Whicher will perform songs by the young British Columbia composer Matthew Emory as well as a set by Pierre Mercure. Ainsworth and Whicher will be accompanied by the pianist Kathryn Tremills.
Clearly this is a very worthwhile project; it deserves everyone's support. Tax-deductible donations can be made through the Project's website (canadianartsong project.ca). Anyone interested in commissioning a new work should contact Wiliford or Philcox (canadianartsongproject@gmail.com).
The Ukrainian Art Song Project: a recording of songs based on the poetry of Taras Shevschenko is now available. It features the bass-baritone Pavlo Hunka and a number of Canadian singers: Russell Braun, Krisztina Szabó, Benjamin Butterfield, Allyson McHardy, Elizabeth Turnbull, Colin Ainsworth, Monica Whicher and Isabel Bayrakdarian. A second CD with 80 Galician songs will be launched in November. Hunka will also sing on March 23, along with local Ukrainian choirs and the Gryphon Trio at Koerner Hall.
Other Events in the GTA:
On March 8 Measha Brueggergosman will sing works by Brahms, Ravel, Turina, Copland, Ellington and Joni Mitchell at the Flato Theatre, Markham.
March 16 and 18: The Talisker Players present "Creature to Creature: A 21st-Century Bestiary," with Norine Burgess, mezzo, and Geoffrey Sirett, baritone; works by Poulenc, Rappoport and Hoiby (Trinity-St. Paul's Centre, March 16 and 18).
March 26: Jennifer Taverner and Lesley Bouza, soprano, Jennifer Enns Modolo, mezzo, Isaiah Bell, tenor, and Michael York, baritone, are the soloists in the Toronto Mendelssohn Choir's performance of Bach's B Minor Mass at Koerner Hall.
On March 30 Kristine Dandavino, mezzo, and Dillon Parmer, tenor, will be the soloists in a performance of Mahler's Das Lied von der Erde at the Kingsview United Church, Oshawa.
On April 3 Claire de Sévigné, soprano, Charlotte Burrrage, mezzo, Andrew Haji, tenor, and Gordon Bintner, bass-baritone, are the singers in Brahms' Liebeslieder Walzer, a free noon-hour concert at the Richard Bradshaw Amphitheatre.
And beyond the GTA:
On March 8 Leslie Fagan will be the soprano soloist in Schubert's Shepherd on the Rock. The program will also include Brahms' Clarinet Sonata no.2 and his Clarinet Quintet at the Maureen Forrester Recital Hall, Wilfrid Laurier University, Waterloo.
March 22: Mendelssohn's Elijah. Daniel Lichti sings Elijah and other roles are taken by Anne Marie Ramos, soprano, Sophie Roland, alto, and Chris Fischer, tenor at River Run Centre, Guelph.
March 23: Allison Angelo, soprano, Jennifer Routhier, mezzo, Christopher Mayell, tenor, and Bruce Kelly, baritone, will be the soloists in Mozart's Requiem at the Kingston Gospel Temple.
A Correction: A mistake crept into my February column as it moved from an e-mail attachment into print. I had tried to make a distinction between the Purcell Consort directed by Grayston Burgess and the Deller Consort directed by Alfred Deller (and after his death, by his son Mark). In the printed version of the column the two were conflated.
Hans de Groot is a concertgoer and active listener. He also sings and plays the recorder. He can be contacted at artofsong@thewholenote.com.