This is the centenary year of the birth of Benjamin Britten and we have already had the opportunity of hearing a great deal of his music, notably in the mini-festival with which the Aldeburgh Connection ended its final season. This month we can see Peter Grimes, Britten's breakthrough opera, in a production by the Canadian Opera Company (the first night is October 5). The opening concert of the Elmer Iseler Singers "Saint Cecilia Sings" will include music by Howells, Schubert, Vaughan Williams and Daley as well as Britten (October 20). The Toronto Symphony Orchestra will perform the Serenade for Tenor, Horn and Strings, with Nicholas Phan, tenor, and Neil Deland, horn (October 31 to November 2). The November 5 concert by the Orpheus Choir includes the 1938 pacifist cantata, World of the Spirit.
The free lunchtime performances in the Richard Bradshaw Amphitheatre at the Four Seasons Centre include five concerts in October with music by Britten. Of these several are vocal concerts: a selection of his songs and song cycles on October 9; an afternoon of English song on October 22; highlights of Albert Herring on October 23.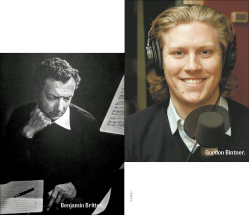 Gordon Bintner: Thebass-baritone Gordon Bintner will perform in the October 9 recital at the Four Seasons Centre. He will sing Tit for Tat, a cycle that Britten wrote as a teenager but did not put together until 1968. The texts are by Walter de la Mare and they explore the mental world of the child.
I only know of three earlier occasions in which Bintner sang in Toronto: in 2012 he was one of the Art of Song fellows in the Toronto Summer Music program; he sang Schubert with the Aldeburgh Connection last spring; he won both the jury prize and the audience prize at the competition for entrance to the COC Ensemble Studio last year. But he has a great deal of experience elsewhere. He studied at McGill and it is in Montreal that he gave many of his performances: he sang Lescaut in Massenet's Manon for l'Opéra de Montreal. As a student he sang Don Giovanni as well as the Speaker in Die Zauberflöte and Argante in Handel's Rinaldo for Opera McGill. In 2011 he performed Figaro in Le Nozze di Figaro for Opera NUOVA (Edmonton). In 2012 he was a Merola fellow in San Francisco and performed the role of Nardo in Mozart's La finta giardiniera there. He also sang Mozart and Donizetti with the San Francisco Opera Orchestra.
This year he has small parts in the COC productions of La Bohème and Donizetti's Roberto Devereux. He will also be covering the roles of Swallow in Peter Grimes, Don Alfonso in Mozart's Così fan tutte and Sancho in Massenet's Don Quichotte. He will sing Don Alfonso in the COC Ensemble Studio performance of Così in February. And there are going to be other engagements: Messiah in Okanagan, a recital and a masterclass in Yellowknife and Mozart's Coronation Mass with the Toronto Symphony Orchestra. While it may be a bit early to talk about an international career, it is worth mentioning two events: Bintner has sung Colline in La Bohème in a production by Angers Nantes Opera in France and this November he will perform in Berlin in Leonard Bernstein's A Quiet Place with the Ensemble Modern under Kent Nagano.
Bintner is clearly at home in song, in opera and in oratorio. He says that he loves the three genres equally and that given the right opportunities he will sing all three!
OTHER EVENTS
October 6: The opening concert in the Recitals at Rosedale series, "The Seven Virtues," features Leslie Ann Bradley, soprano, Allyson McHardy, mezzo, Peter Barrett, baritone, Rachel Andrist and John Greer, piano. They will perform works by Purcell, Mozart, Mendelssohn, Schumann, Brahms, Strauss, Duparc, Vaughan Williams and others (Rosedale Presbyterian Church).
October 6: Bernie Lynch sings "Tenor songs through the ages." (St. Anne's Anglican Church).
October 11: A Wagner program will include scenes from Die Walküre, Tristan und Isolde and Götterdämmerung; the singers are Susan Tsagkaris, soprano, Ramona Carmelly, mezzo, and Stuart Graham, baritone (First Unitarian Church).
October 11: Melody Moore and Rufus Wainwright sing works by Wainwright with the Toronto Symphony Orchestra (Roy Thomson Hall).
October 15: Robert Pomakov, bass, will sing a new work by Bohdana Frolyak based on a text by Taras Shevchenko (Richard Bradshaw Amphitheatre).
October 24: Miriam Khalil, soprano, and Julien LeBlanc, piano, will perform a recital of French and Spanish art songs (Gallery 345).
October 25 to 27: Katherine Hill is the soprano soloist in a program based on Aubrey's Brief Lives (Young Centre).
October 26: Stanislav Vitort, tenor, and Zhenya Yesmanovich, piano, perform a program presented by the Neapolitan Connection (Montgomery's Inn).
October 26: Maryna Svitasheva, mezzo, and Brian Stevens, piano, perform works by Schumann, Moniuszko and others (Bloor Street United Church).
October 27: Lindsay Kesselman is the soprano soloist in a program of works for clarinet, piano and voice (Gallery 345).
October 31: Alexa Wing, soprano, and Peter Bishop, piano, perform (Metropolitan United Church).
November 1: Michele Bogdanowicz, mezzo, Ernesto Ramirez, tenor, and Rachel Andrist, piano, will perform works by Chopin, Viardot, Palej and Grever (Gallery 345).
November 2: Francesco Pellegrino is the tenor soloist in a program of traditional Italian music and Mediterranean jazz (Koerner Hall).
November 6: Adi Braun sings Kurt Weill (Richard Bradshaw Amphitheatre).
AND BEYOND THE GTA
October 3: At the Colours of Music Festival in Barrie Jennifer Krabbe, soprano, and David Roth, baritone, will sing works by Mozart, Mendelssohn, Brahms, Britten, Barber and Duke (Burton Avenue United Church).
October 3: Also at the Colours of Music Festival, songs from wartime will be performed by Wendy Nielsen, soprano, and Patrick Raftery, tenor (Burton Avenue United Church).
October 9: MarionSamuel, soprano, and Anna Ronai, piano, perform "Sassy women – art songs" (Conrad Grebel University College, Waterloo).
October 19: TheGrandPhilharmonicChoirwillperform Britten's WarRequiem with soloists Leslie Ann Bradley, soprano, Thomas Cooley, tenor, and Russell Braun, baritone (Centre in the Square, Kitchener).
October 22: Richard Cunningham, countertenor, will give a recital accompanied by our own Benjamin Stein, theorbo (Convocation Hall, McMaster University).
October 25: A postmodern cabaret celebrating the legacy of Kurt Vonnegut. (Maureen Forrester Recital Hall, Wilfred Laurier University, Waterloo).
October 26: David Moore, tenor, and Katie Toksoy, horn, will perform Britten's Serenade for Tenor, Horn and Strings, along with works by Elgar and Janáček (Trinity Anglican Church, Aurora).
October 26: Sara Laux Chappel, soprano, Luke Fillion, baritone, and Brian Turnbull, piano, perform songs by Schubert, Mendelssohn, Brahms and others (Centenary United Church, Hamilton).
November 2: Meredith Hall, soprano, and Isaiah Bell, tenor, will be the soloists in Chorus Niagara's performance of music by Handel (Calvary Church, St. Catharines).
November 3: A concert by Wellington Winds includes Canteloube's Songs of the Auvergne; the soprano soloist is Caroline Déry (Grandview Baptist Church, Kitchener). 
Hans de Groot is a concert-goer and active listener who also sings and plays the recorder. He can be contacted at artofsong@thewholenote. com.