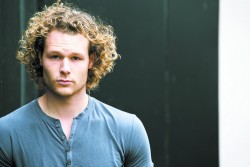 It seemed only yesterday (though it was probably 18 years ago) that I travelled up to North York to hear Elly Ameling's farewell recital in the George Weston Recital Hall. A fabulous concert it was. Well, Ameling is back – this time as a mentor to the eight singers and four collaborative pianists who have been selected as fellows in this festival. Other mentors will be baritone Sanford Sylvan and pianist Julius Drake. Sylvan will also perform Le bal masqué by Poulenc in Walter Hall, July 19 at 7:30pm.
A highlight of the festival will be the concert by Philippe Sly, bass-baritone, and Julius Drake in Walter Hall, July 23 at 7:30pm. They will perform works by Ravel, Duparc, Wolf and Schubert. We have not heard Sly very often in Toronto, although he was a member of the Canadian Opera Company Ensemble Studio in 2011-12 and he made something of the small roles he was given to sing. Before joining the COC Sly won the MET National Council Auditions. He then went to San Francisco where he was a member of the Merola program and subsequently received the Adler Fellowship. He has also been a member of the Young Singers Project at the Salzburg Festival. Last season he sang the role of Guglielmo in Mozart's Così fan tutte at the San Francisco Opera.
If you want to get a taste of Sly's singing, I suggest you go to YouTube. There is an absolutely fabulous performance of Schubert's Der Erlkönig, with the different voices clearly set against each other: the almost neutral baritone of the narrator, the anguished cries of the child, the seductive high baritone of the Tempter and the steady bass of the father who tries, unsuccessfully, to be reassuring. There is also a performance of Wagner's "Ach du lieber Abendstern" (from Tannhäuser), which I have not heard sung that well since the late Victor Braun performed it on the otherwise disappointing Solti recording. There are also two recordings by Sly, both on the Analekta label: one of Les amants trahis and three other works by Jean-Philippe Rameau (with soprano Hélène Guilmette and harpsichordist Luc Beauséjour) and a recital disc (Schumann, Ravel, Ropartz and Dove) with Michael McMahon.
Douglas McNabney, the artistic director of the Toronto Summer Music Festival, tells me that when he invited Julius Drake to participate, Drake specifically asked to be able to play with Sly. I think that on July 23 we shall be able to see why.