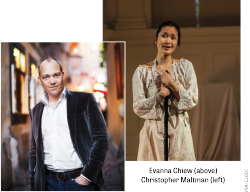 Song recitals are a thing of the past, we are told; the audiences just don't exist any more. But perhaps that statement is premature. I can think of several recent events which suggest that there is still life there. The first was the July 20 recital in which Daniel Lichti sang Schubert's Winterreise. The Heliconian Hall was not full but the size of the audience was respectable. I wrote about Lichti in June, so I shall only add that his singing was just as fine as I had expected.
The second was an August 6 recital given by baritone Christopher Maltman and pianist Graham Johnson to a near-capacity (and very enthusiastic) Walter Hall audience. One thing that struck me about both recitals was their seriousness: no crossover items, no vacuous chitchat. Maltman's recital was a commemoration of the start of the Great War. The songs of George Butterworth and Ivor Gurney were central but there were other songs about war, such as the excerpts from Mahler's Des Knaben Wunderhorn and the song from Mussorgsky's Songs and Dances of Death. Maltman introduced the program by reading a moving poem by Wilfred Owen but he provided nothing that was extraneous to the musical experience.
The Maltman recital was part of Toronto Summer Music, which offers not only concerts by established musicians but also the Toronto Summer Music Academy, which this year provided opportunity to eight singers and five collaborative pianists. (There is a similar program for instrumentalists.) On August 8 we were able to hear all 13 performers. The standard was high: a testament not only to the innate musicality of the artists but also to the quality of the teaching (from François Le Roux and Graham Johnson, and from Christopher Newton and Steven Philcox). I thought the best of the young singers was the mezzo Evanna Chiew but there were also fine performances from Jin Xiang Yu, soprano, and Jean-Philippe McClish, baritone. Among the able accompanists, Brian Locke stood out. There was an added bonus in that we also heard the lovely violist Ryan Davis in Brahms' Songs, Op.91.
Meanwhile I look forward to next season, in particular to another performance of Winterreise, to be sung by baritone Christian Gerhaher (February 26), to the recital by Anne Sofie von Otter, mezzo, and Angela Hewitt, piano (January 9), to the Toronto debuts of the baritone Elliot Madore (March 26) and mezzo Christianne Stotijn (April 16) and to the Kurt Weill recital by Adi Braun (December 6).
Upcoming Events in the GTA:
September 5 to 7, The Muted Note offers songs and dances based on the poetry of P.K. Page at The Citadel and September 27 at Gerrard Art Space .
Linda Condy, mezzo, will be the singer in a free recital titled It's Easy Being Green at Yorkminster Baptist Church on September 16 at 12 noon, donations welcome.
The first recital in the noon series at the Richard Bradshaw Amphitheatre in the Four Seasons Centre will be a concert by the new members of the Canadian Opera Company Ensemble Studio on September 23. It will be followed, on October 2, by a concert of arias and ensembles based on Shakespeare's plays, performed by students of the University of Toronto Opera Division, and, on October 7, by three song cycles by Derek Holman (The Death of Orpheus, A Lasting Spring, A Play of Passion) to be performed by Colin Ainsworth, tenor, and Stephen Ralls, piano. These concerts are free.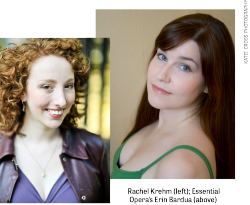 Last year much was made of the centenary of the birth of Benjamin Britten and the bicentenary of the births of Richard Wagner and Giuseppe Verdi. By contrast, the tri-centenary of the birth of Christoph Willibald von Gluck is now passing without notice (as is that of C.P.E. Bach). But there is one exception: Essential Opera is giving us Gluck's rarely heard Paride ed Elena with Lyndsay Promane, mezzo, and Erin Bardua, soprano, in the title roles. The opera is staged and is performed with piano accompaniment at Trinity-St. Paul's Centre, September 27 at 8pm; there will be another performance in Kitchener at the Registry Theatre on October 1 at 7:30pm.
Katherine Hill will be the soprano soloist in the Ensemble Polaris concert of Back to the Future: New Tunes from Sweden at 918 Bathurst Street on October 3.
On October 4 the soprano Emily D'Angelo will sing arias by Handel, Gounod and Rossini with the Greater Toronto Philharmonic at Calvin Presbyterian Church.
And beyond the GTA:
Chris Ness, piano, and Janet Ness, vocals, will perform works by Gershwin, Porter and Kern at Grace United Church, Barrie; September 10.
Daniel Lichti, bass-baritone, will be the soloist with the Nota Bene Baroque Players and Alison Melville, traverso, on September 18 at noon. On September 25, also at noon, the tenor James McLean and pianist Lorin Shalanko will perform. Both concerts are free, at the Maureen Forrester Recital Hall, Wilfred Laurier University, Waterloo.
On September 14 at 2pm, Charlotte Knight, soprano, and Jonathan Dick, baritone, will perform Schubert's Der Hirt auf dem Felsen as well as songs by Argento and Bolcom and selections from My Fair Lady and The Phantom of the Opera. Michele Jacot is the clarinet soloist in the Schubert at Silver Spire United Church, St. Catharines.
On September 15, the Kitchener-Waterloo Chamber Music Society will present a concert in which the main work is Schoenberg's Pierrot Lunaire. The soprano soloist is Rachel Krehm at the KWCMS Music Room, Waterloo.
There will be a tribute to one of our most distinguished, and certainly our most inventive, living composer R. Murray Schafer, in The Barn at Campbellford on September 21 at 2pm. Donna Bennett, soprano, and Eleanor James, mezzo, will sing. The host will be Ben Heppner.
Two Postscripts: In 2012/13 the outstanding musical event was the Janáček-Kurtág double bill presented by Against the Grain Theatre. After that there was a modern adaptation of Mozart's Le Nozze di Figaro, which I thought was splendid in some parts, less successful in others. But their latest offering this past June, Debussy's Pelléas et Mélisande, was a triumph. It is an opera I am very fond of but I have never seen a production which was as imaginative and which was sung with the intensity that these performers brought to it.
In June I reviewed a new CD of Telemann's opera Miraways. Since its publication Scott Paterson has pointed out to me that the main theme of one of its arias ("Ein doppler Kranz") reappears in an instrumental trio by Handel. The opera dates from 1728; the Handel trio probably from the early 1740s. Much has been written about Handel's borrowings but, as far as I am aware, this particular borrowing has not been noted before.
Hans de Groot is a concert goer and active listener who also sings and plays the recorder. He can be contacted at artofsong@thewholenote.com.