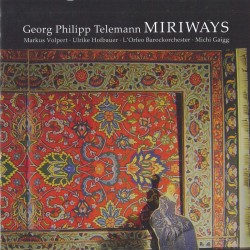 Telemann – Miriways
Markus Volpert; Ulrika Hofbauer; L'Orfeo Barockorchester; Michi Gaigg
CPO 777 752-2
The Opera House in Hamburg, the first public opera house in the German-speaking world, opened in 1678. The operas it staged were in German, although they sometimes included Italian arias. Initially the major composer was Reinhold Keiser; later younger composers like Handel and Johann Mattheson gained their start in Hamburg. Telemann settled in Hamburg in 1721. He soon became the director of the company and wrote many operas for it. Most Hamburg operas dealt with mythology or ancient history but occasionally more topical subjects were introduced: Keiser wrote Masaniello Furioso in 1706; its subject was the 1647 Neapolitan revolt against the Spanish rulers of the city. Mattheson wrote an opera about Boris Godunov in 1710. Telemann's 1728 Miriways was more topical than either. Its main character is a Pashtun emir from Kandahar, who, supposedly, defeated the Persians and conquered Isfahan in 1709.
Although the opera is in German, it is based on the Italian opera seria pattern with elaborate da capo arias. There is some interesting experimentation: in the first act the Persian Nisibis sings an aria, in which she invokes sleep, and appropriately falls asleep in the middle, in the B section, on the dominant! An oriental colouring is provided by the brilliant and taxing parts for the corni da caccia. In this performance recorded live in Theatre Magdeburg the opera is well sung and well played. Magdeburg was Telemann's home town and the Magdeburg theatre is committed to performing all his works. Telemann's operas are not well known and this lively (and live) performance can be wholeheartedly welcomed.