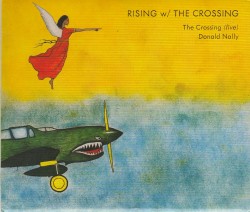 Rising w/The Crossing
The Crossing; Donald Nally
New Focus Recordings FCR281 (newfocusrecordings.com/catalogue/?artist=11549)
Living in the throes of a raging global pandemic we all experience our "new normal" differently. If ever we could imagine a soundtrack that unites us through the silent roar of isolation it would be one that reflects both the hopelessness of it all as well as the uplifting energy of hope itself. With its soul-stirring music, Rising w/ The Crossing certainly qualifies to provide powerful anthems for our self-isolating sensibilities.
The choral ensemble conducted by Donald Nally brings uniquely thoughtful and penetrating insight to music by Joby Talbot, Ēriks Ešenvalds, Dieterich Buxtehude, Paul Fowler, Alex Berko, Ted Hearne and Santa Ratniece; works that follow in the wake of David Lang's powerfully prescient protect yourself from infection, the text of which was inspired by instructions that rose out of the last pandemic: the Spanish flu.
The sense of awe and wonder which hovers over this entire recital is particularly close-focused in Lang's work. It is echoed in the ever-shifting heartbeat of the wonderfully supple voices of the singers who make up The Crossing; voices that ceaselessly and eloquently trace the melodies of other stellar miniatures too.
Much of the music is performed a cappella and this gives the works in question a wonderfully spectral quality. This is certainly true of Hearne's 2016 work What it might say. But equally, it is Buxtehude's Baroque-period works featuring the Quicksilver ensemble that enliven the elusive moments of this ethereal music's whispered breath.