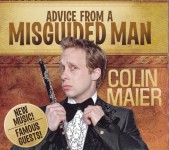 Advice from a Misguided Man
Colin Maier
Independent CMCD001
www.colinmaier.com
Colin Maier is far from misguided as an artist. He is comfortable in a wide range of musical styles as is clearly evident for listeners familiar with his work as the oboist for Quartetto Gelato. In this solo project, Maier is joined by a number of special guests in an eclectic collection of music.
Maier, with pianist Allison Wiebe, is sensitive and articulate in Saint-Saëns' Oboe Sonata. Musical puns abound in Pasculli's take on Donizetti operas, with accordionist Alex Sevastian providing a solid accompaniment. The traditional The Pipes is arranged by Maier and Mark Camilleri for small ensemble with oboe providing a convincing bagpipe timbre. Maier creates the ambiance in his steady long tones. Rousing versions of Hilario Durán's Song for Magdalena and the oboist's composition Bakon showcase Maier's ample Latin chops. Based on two contrasting Canadian folk songs, Aura Pon's lyrical Songs of the North Woods, No.1 is simultaneously soothing and dramatic. The idiosyncratic collection of short "songs" by the composer Rebecca Pellett and lyricist Liza McLellan (Gelato's cellist) are dispersed as tracks throughout. Everything from new music to poetry to dramatic melodies, the songs are unique twists in sound and attitude. There is nothing bland here.
Colin Maier is a multi-talented musician who plays oboe with a gorgeous tone and superimposes his sense of seriousness and humour into all he performs. You would be misguided not to listen to this release.