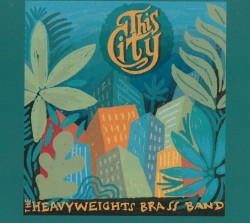 This City
Heavyweights Brass Band
Lulaworld Records (heavyweightsbrassband.com)
The uplifting, toe-tapping, impressive playing of the Heavyweights Brass Band in their third release has the band live up to its name with great, diverse musical sounds. The five members – John Pittman (trumpet), Chris Butcher (trombone), Paul Metcalfe (tenor saxophone), Tom Richards (tuba/keyboard/trombone) and Lowell Whitty (drums/percussion) – are each brilliant in any role from soloist, to backup support, to improvisers, to astute group musicians, to composer/arrangers. This time they travelled to New Orleans to record in the city of their inspiration, collaborating with special guests from both there and Toronto.
The eight tracks blast with wide-ranging styles and influences. Richards' Two Foot Ticket is an intriguing mix of low tuba lead line contrasted by higher pitched horns sections and a smart solo by guest guitarist Kevin Breit. I love guest Roger Lewis' Roger's Intro, with its wailing baritone sax leading into Metcalfe's get-up-and-boogie funky dance tune Dance Out On The Corner. There's a refreshing, almost laid-back yet fun feel in the Metcalfe arrangement of Stevie Wonder's hit Tell Me Something Good. Another change of pace is guest vocalist Jackie Richardson soaring through Pittman's at times almost folk music arrangement of Steve Earle's This City.
Great to hear the Heavyweights evolving both in the to-be-expected brass band funk/Latin/jazz/R&B tradition and taking on the challenges of covers, different styles and working with special guests. All of which makes for dancing and listening hurrahs.