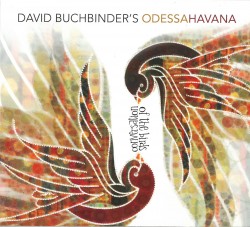 Conversation of the Birds
David Buchbinder's OdessaHavana
Independent MFR CD003 (odessahavana.com)
David Buchbinder's release Conversation of the Birds forays into the countryside of fantasy while still staying on course for the musical realms between the Baltic and Cuba, where he befriends much more than fine feathered friends in the forests outside Odessa and Havana. If one has been an admirer of the trumpeter and his extraordinary group, one can now be persuaded to go travelling with him and his posse that includes drummer Mark Kelso, violinist/violist Aleksandar Gajic, extraordinary pianist Hilario Duran and the ineffably beautiful vocals of Maryem Hassan Tollar – you can hear a sense of freedom in her voice as she remembers the elegance of the proverbial bridesmaid in La Galana, while the elegance of the band sends her spirits soaring during another visit to Iberia in Bembe Andaluz.
Throughout the visceral excitement of this music the listener is transported to a rarefied realm, all but becoming a part of the vivid, natural landscape – one that mixes beauty and danger, and conjures the exotic locales in the keening ululations of Tollar as well as in the congas, bongos, chekere and darbuka. All of the musicians are completely attuned to Buchbinder's unique vision and artistry. Saxophonist John Johnson, Flamenco guitarist Benjamin Barrile and percussionists Joaquin Hidalgo and Raquy Danziger deliver hugely powerful performances evocative of steamy Cuban and Turkish afternoons as well as freezing Baltic nights on this inspiring musical journey.