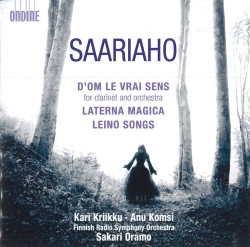 Saariaho - D'om le vrai sens; Laterna Magica; Leino Songs
Kari Kriikku; Anu Komsi; Finnish Radio Symphony Orchestra; Sakari Oramo
Ondine ODE 1173-2
Kaija Saariaho stands among today's outstanding concert music composers. She was born in Finland (1952) but has been a long-time resident of Paris. Her research at IRCAM, the Paris institute where FM synthesis and electroacoustic techniques associated with spectral music have been developed, has had a profound influence on her compositions, which often combine live and electronic musical forces.
This CD features three recent all-acoustic works performed by some of Finland's finest interpreters. Saariaho's clarinet concerto D'om Le Vrai Sens, inspired by the famous La Dame à la Licorne medieval tapestries is almost operatic in scope, the solo clarinet virtuoso Kari Kriikku playing the protagonist to the orchestra's lushly mysterious textures.
Saariaho's dramatic orchestral piece Laterna Magica derives its title and theme from film director Ingmar Bergman's memoirs, referring to an early type of manual film projector. The title underscores the composer's fascination with boundaries: between observation and imagination; between objective light and subjective dream-like reality. The latter is represented in sound by shifting, colourfully orchestrated, alternating dense and wispy chords and evanescent hissing instrumental sounds. Whispered words uttered by the musicians, describing light's effects both on objects and on human mood, are culled from Bergman, adding to the music's mystery.
The four Leino Songs, built on texts by Finnish poet Eino Leino (1878-1926), were composed for the polished and nuanced voice of the Finnish soprano Anu Komsi and orchestra. Epigrammatic and voice-friendly, the songs follow the lyrics admirably, allowing the words to dictate the overall form and duration of each song. This is by far the shortest of the works here, yet its emotional impact is perhaps the greatest.
Concert Note: The Canadian Opera Company will present eight performances of Kaija Saariaho's Love From Afar, featuring Russell Braun, Erin Wall and Kristina Szabó, February 2 to 22.