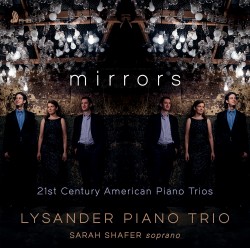 mirrors – 21st Century American Piano Trios
Lysander Piano Trio
First Hand Records FHR11 (lysandertrio.com)
The formidable Lysander Piano Trio celebrates its ten-year anniversary with an attractive new disc, featuring music hot-off-the-press by living American composers. The trio is fervently committed to new music and to the commissioning thereof: no less than six world-premiere recordings populate this disc.
Ne'er to shy away from muscular playing and athletic feats of prowess, the members of Lysander crack on through these works (generally having been constructed with their triply impressive strengths in mind). The composers represented here do seem to ensure a freshness of concept, sometimes sojourning in new directions. Thankfully, the result is a 21st-century deliverance of the genre from the shackles of a 19th-century canon.
The extra musical inspiration throughout the record is notable. Reinaldo Moya's Ghostwritten Variations has been inspired by four novels that highlight composers as protagonists, namely those of Thomas Mann, David Mitchell, Richard Powers and Kim Stanley Robinson. Moya's piece offers a reimagining of what music by these four might sound like – a compelling conceit. The Black Mirror by Jakub Ciupinski turns to the visual arts for incentive, referencing a portable painting aid, curiously known as a "Claude glass." And Sofia Belimova's brief, Titania and Her Suite, reaches our eyes by way of A Midsummer's Night Dream.
Without doubt, a highlight of this release is Love Sweet by Jennifer Higdon, as sung by Sarah Shafer. The young soprano's narrative abilities and refined vocal colour bring the new, five-song cycle to life.