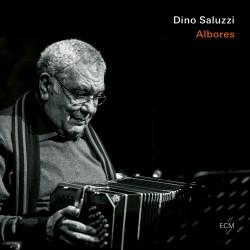 Albores
Dino Saluzzi
ECM New Series ECM 2638 (ecmrecords.com/shop)
Albores – meaning "daybreak" – is Argentinian bandoneonist/composer Dino Saluzzi's first solo album in decades. Born in 1935, Saluzzi is renowned for his performances with his family band and orchestra, other ensembles and orchestras, and work with many jazz musicians such as Charlie Haden and Gato Barbieri. Here Saluzzi plays nine of his compositions on solo bandoneon, an accordion-like instrument popular in Argentinian folk music and tangos. Even though Saluzzi uses tango references, he also develops other styles in this emotional, storytelling music chronicling his life and musical adventures.
The opening track, Adiós Maestro Kancheli, is a reflective, mournful musical tribute to his late friend Georgian composer Giya Kancheli, highlighted by a high-pitched melody against a lower chordal accompaniment, reminiscent of a two-person conversation. Superb controlled bellows during held notes and volume changes makes the slow sparse Ausencias equally moving.
Don Caye – Variaciones sobre obra de Cayetano Saluzzi pays homage to Saluzzi's bandoneonist father, who taught him about music from a young age, in a more traditional joyous tango with steady rhythms, arpeggiated melodies and a short, slightly dissonate slower section. Según me cuenta la vida –Milonga briefly alludes to Piazzolla-flavoured tango nuevo yet Saluzzi's shorter contrasting melodies, dissonances and repeated notes make this contemporary milonga more his own.
Throughout, Saluzzi performs on bandoneon with detailed personal musicality, conviction, dedication and thorough technical understanding. His compositional reflections awaken a lifetime of countless feelings from happiness to grief in his own personal sound.