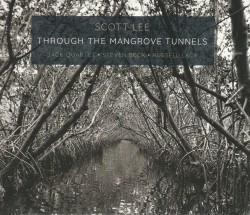 Scott Lee – Through the Mangrove Tunnels
JACK Quartet; Steven Beck; Russell Lacy
Panoramic Recordings PAN20 (newfocusrecordings.com/catalogue)
I was lucky to receive this album during the latest COVID-19 lockdown, as it provided a welcome escape from my own four walls. This album is great storytelling, an audio film of tales of imaginative discoveries by the composer growing up wandering the swamps and bayous of Florida. Drawn from Lee's memories of exploring the Weedon Island nature preserve as a youth, from one movement to the next I was captivated. From the opening track, Through the Mangrove Tunnels, we are transported to a small craft, peeking around corners through overgrown channels, encountering the unexpected. This album is an expertly played audio escapade featuring pianist Steven Beck, drummer Russell Lacy and the JACK Quartet.
Part historical narrative, and part personal reflection, Lee manages to engage the listener with his blend of contemporary classical and extended jazz techniques, travelling seamlessly between tonalities and polyrhythmic styles without a single extraneous or gratuitous beat. Each track is expertly crafted to tell a tale of mystery: from shootouts, strange figures, ceremonial Native American gatherings, bootlegging, plane crashes and marvellous natural phenomena, the accompanying stories are fantasmic sketches perfectly enhancing each gorgeous composition almost to the scale of Saint-Saëns' Carnival of the Animals. The tracks Playthings of Desire and The Ballad of Willie Cole are both full compositions almost on their own, but presented here they remind us that although the album provides some entertaining and humorous listening, these are compositions of great depth. The final track, Floating Away, takes us home in a way that evokes the end of a long and mysterious voyage.
Be sure to get a hard copy or a download of the booklet if possible, and follow along with the stories, as this is an album that deserves to be experienced as we used to, when a composer shared a journey with us, and we stayed in one place to listen and receive it in full. Perfect lockdown listening.