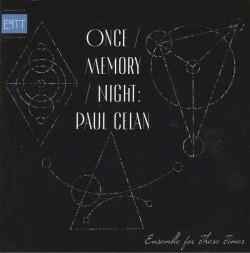 Once/Memory/Night: Paul Celan
Ensemble for These Times
E4TT (e4tt.org/discography.html)
Paul Celan was one of the 20th century's most profound poets. To listen to this breathtaking recording of his poetry is to be drawn to its haunting beauty as if by gossamer strings. Elliptical, rhythmically spellbinding, each word obdurate and as inward as a geode, Celan's poems embody a conviction that the truth of what has been broken and torn must be told with a jagged grace. And few – if any – recordings of his work tell their truth better than Once/Memory/Night: Paul Celan by Ensemble for These Times.
This recording features almost an hour of poetry echoing with heart-aching emotion delivered in a kind of near-spiritual quietude. A unique atmosphere is created by the disc's opening track: Libby Larsen's 4½: A Piano Suite brought to eloquent life by pianist Xin Zhao. Then follows Die eichne Tür, the cycle of Celan poems set to music by David Garner. The Ensemble's performance is both poised and haunting, and is raised to a rarefied realm by lustrous and soaring, songful recitatives executed by the inimitable Nanette McGuinness,
More of the transcendent beauty of Celan's work unfolds in Jared Redmond's Nachtlang before we are treated to the extraordinary recitation of another celebrated poet, Czeslaw Milosz's A Song on the End of the World by Milosz's son Anthony, followed by the disc's dénouement: a rapturous performance of Milosz's poem which unfolds with poise and sensual fluidity from the lips of the magnificent McGuinness.