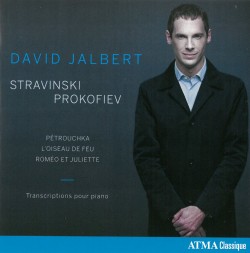 Stravinski – Prokofiev Pétrouchka, L'oiseau de feu, Roméo et Juliette – Transcriptions pour piano
David Jalbert
ATMA Classique ACD2 2684
Review
The following review is an excerpt from Keyed In (December 2017/January 2018) which can be read in its entirety here.
David Jalbert already has five recordings in the ATMA catalogue. His newest is Stravinski – Prokofiev Pétrouchka, L'oiseau de feu, Roméo et Juliette – Transcriptions pour piano (ATMA Classique ACD2 2684). It shows why he's considered one of the younger generation's finest pianists. His performance of Danse russe from Pétrouchka explodes into being with astonishing speed and alacrity. Jalbert possesses a sweeping technique that exudes ease and persuasive conviction.
The three extracts from L'Oiseau de feu require, and Jalbert obviously has it, complete command of the keyboard for the Danse that begins the set. Equally demanding is the introspection necessary for the following Berceuse. The Finale builds to a colossal orchestral finish that loses nothing in this transcription for piano.
According to the disc's informative liner notes, the ten pieces from Prokofiev's ballet Romeo and Juliet Op.75 are from Prokofiev's original piano score, and owing to the composer's facility with the instrument, are highly idiomatic. One of the set's most engaging pieces is The Montagues and the Capulets, driven rhythmically by its relentless bassline. Jalbert has a complete understanding of these three stage works and the contemporary language their composers used to tell their stories.