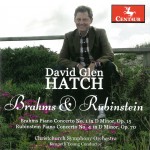 American pianist David Glen Hatch exploits his pianistic link to Brahms in Brahms & Rubinstein (Centaur CRC 3565/3566). Brahms' student Carl Friedberg taught at Juilliard in the late 1940s; Hatch's own teacher Joanne Baker won an audition to study there with Friedberg. Hatch recalls numerous instructions from Baker, handed down by Friedberg from Brahms, about his intentions for various passages in the Piano Concerto No.1 in D Minor Op.15. It's fascinating to consider the extent to which Hatch's performance is connected to the composer in this way. Hatch's approach overall is quite deliberate in his slightly slower tempi. The second movement in particular reveals numerous opportunities to dwell on phrases and Brahms' characteristic harmonic shifts.
As substantial as the Brahms concerto is, the Rubinstein Concerto for Piano and Orchestra No.4 in D Minor Op.70 seems an even grander conception. It may have to do with Rubenstein's orchestrations, but somehow Hatch seems truly in his element with the composer's great pianistic gestures. The concertos are an excellent pairing for this two-disc recording.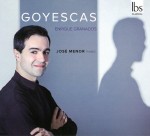 José Menor is an extraordinary pianist with a fearsome technique and unrivalled fluidity of touch. His new recording Goyescas – Enrique Granados (IBS Classical IBS-82017) demonstrates how he brings these gifts to his exploration of this major composition of Spanish piano music. Menor goes to considerable effort in his liner notes to explain how this music captured his imagination and compelled him to study it from a composer's perspective rather than just a pianist's. His study of the original manuscripts recommended by the Granados family helped him profoundly in discerning the composer's intent in writing the suite, which deals with the course of love and death.
Menor admits being attracted by the work's many, deep contrasts and its expressive intensity. This is most powerfully evident in El amor y la muerte. It's astonishing to imagine that this century-old work contains such modern tone clusters and rhythmic freedom. Under the hands of Menor it becomes a revealing expression, ahead of its time, and potently magical. The suite is slightly abridged for lack of recording space but the disc does include a rare performance of a single short manuscript, Crepúsculo, that may have been Granados' first draft of some of the suite.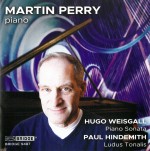 Martin Perry's third recording Martin Perry Piano – Hugo Weisgall, Piano Sonata & Paul Hindemith, Ludus Tonalis (Bridge 9467) continues his artistic focus on contemporary piano music, and specifically on substantial forms. The disc opens with a three-movement Sonata for Piano by Hugo Weisgall, a Moravian immigrant to the US in 1920 whose serious pursuit of music study at Peabody and Curtis, and privately with composers like Roger Sessions, helped form the rigorous approach he developed in his own writing. His language tends towards a 12-tone, relaxed serialism where the musical ideas are rather long. There's a good deal of highly contrasted emotional content that Perry handles beautifully, giving the sonata what the liner notes call an "operatic" quality.
In the same vein, the Hindemith Ludus Tonalis has an illuminating subtitle: Studies in Counterpoint, Tonal Organization and Piano Playing. Hindemith writes a fugue in each of the 12 major keys, joined by interludes that help establish the new key. The opening Praeludium is played inverted and in reverse as the Postludium. It's all rather cerebral, but Perry uses the distinct character of each fugue and interlude to colour the work in the most creative way. It's a very engaging performance.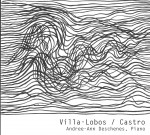 Andree-Ann Deschenes describes herself as a "French-Canadian pianist specializing in the passionate music of Latin and South America." Currently doing doctoral work at California State University in LA, her latest recording Villa-Lobos / Castro (191061746096 aadpiano.com) is a rich program revealing the skill and artistic mastery of this very gifted pianist. Opening with the Villa-Lobos four-part Ciclo Brasileiro W374, Deschenes establishes her credentials as a serious student of these Latin composers. With an unerring sense of rhythm for every turn of phrase and ornament, she navigates through the Villa-Lobos and the five Tangos para Piano by Juan José Castro, finishing with a brilliant performance of Festiva by José Maria Vitler. It's a terrific recording with a tremendous amount of energy, humour and astonishing talent.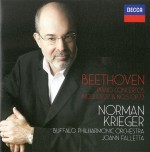 Norman Krieger puts two wonderful standard repertoire items on his newest CD: Beethoven Piano Concertos No.3 Op.37 & No.5 Op.73 (Decca DD41154 / 4815583). The Buffalo Philharmonic Orchestra under Joann Falletta performs beautifully with Krieger. They appear to have an agreement that the Concerto No.3 will not be overly furious and that the "Emperor" will similarly not be too imperiously grand. The outer movements of the concertos are sufficiently strong and emphatic where they need be, and the middle, slow movements are given ample space to breathe. The Concerto No.5 is especially effective in this way. The playing throughout is excellent. To top things off, the recordings are live concert performances that bring their own unique energy to the music. It's a successful collaboration that shows promise.