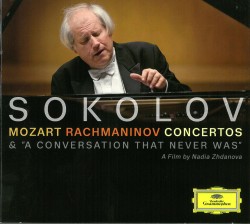 Mozart, Rachmaninov Concertos & "A Conversation That Never Was" A Film by Nadia Zhdanova
Grigory Sokolov
DG CD/DVD479 7015
Review
The following review is an excerpt from Keyed In (May 2017) which can be read in its entirety here.
Grigory Sokolov is legendary for his rejection of celebrity. He gives no interviews and for some years now has stopped performing with orchestras. He also dislikes and avoids recording studios. It's something of an achievement therefore, for Deutsche Grammophon to have obtained Sokolov's agreement to reissue two live performances from 2005 and 1995 in Mozart, Rachmaninov Concertos & "A Conversation That Never Was" A Film by Nadia Zhdanova (DG CD/DVD479 7015). The addition of the film (on DVD) makes this set unusual. Zhdanova interviews Sokolov's friends and colleagues and adds newly found archival material to create a portrait of this very private and sometimes reclusive artist.
The Mozart Piano Concerto No.23 in A Major K488 is the more recent performance. Recorded in 2005 in Salzburg with the Mahler Chamber Orchestra under Trevor Pinnock, it's an intimate reading with Sokolov's characteristic crisp, clear staccatos punctuating the opening of the final movement.
The other performance is with the BBC Philharmonic at the Royal Albert Hall in 1995. The Rachmaninoff Piano Concerto No.3 in D Minor Op.30 is loved by audiences and equally feared by pianists for its technical challenges. The speed at which Sokolov takes the opening of the final movement is scarcely believable. The same rapid repeats of chordal passages appear in the first movement, where Sokolov gives the piano such a pounding that some notes in the upper register begin slipping out of tune and make for a few interesting effects as the performance proceeds without a pause to correct the matter. Still, the scale of Sokolov's interpretive conception is awesome and often startling.