Review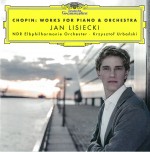 One of Canada's brightest young talents is Jan Lisiecki. The Calgary-born pianist has been astonishing audiences since his orchestral debut at age 9. Now 22, his list of international performances with major orchestras and conductors grows yearly. His newest recording Chopin: Works for Piano & Orchestra, NDR Elbphilharmonie Orchester, Krzysztof Urbanski (DG 479 6824) is his fourth for Deutsche Grammophon.
Lisiecki's playing is unerringly precise with a lightness of touch that gives him astonishing tonal control, speed and clarity. He approaches Chopin with calm introspective depth unusual for an artist so young. The Nocturne in C-sharp Minor Op.Posth. demonstrates this with its mellow left-hand accompaniment of a brighter line in the right. Lisiecki's finish is astonishing in its balanced perfection.
Every track on this CD is extraordinary. But what really emerges as the showpiece is the set of Variations on "Là ci darem la mano" from Mozart's Don Giovanni, Op.2. Speed, technique, astonishing rapid octaves and other devilish Chopinesque devices make this performance an example of genius running joyously amok.
Lisiecki plays beautifully with orchestra. A natural ease keeps him in step with the ensemble through the Rondo à la Krakowiak in F Major Op.14 and the Andante Spianato & Grand Polonaise Brillante Op.22.
Almost all of this disc also appears as part of DG's 20-CD set The Complete Chopin, featuring Lisiecki along with other performers.
Review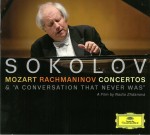 Grigory Sokolov is legendary for his rejection of celebrity. He gives no interviews and for some years now has stopped performing with orchestras. He also dislikes and avoids recording studios. It's something of an achievement therefore, for Deutsche Grammophon to have obtained Sokolov's agreement to reissue two live performances from 2005 and 1995 in Mozart, Rachmaninov Concertos & "A Conversation That Never Was" A Film by Nadia Zhdanova (DG CD/DVD479 7015). The addition of the film (on DVD) makes this set unusual. Zhdanova interviews Sokolov's friends and colleagues and adds newly found archival material to create a portrait of this very private and sometimes reclusive artist.
The Mozart Piano Concerto No.23 in A Major K488 is the more recent performance. Recorded in 2005 in Salzburg with the Mahler Chamber Orchestra under Trevor Pinnock, it's an intimate reading with Sokolov's characteristic crisp, clear staccatos punctuating the opening of the final movement.
The other performance is with the BBC Philharmonic at the Royal Albert Hall in 1995. The Rachmaninoff Piano Concerto No.3 in D Minor Op.30 is loved by audiences and equally feared by pianists for its technical challenges. The speed at which Sokolov takes the opening of the final movement is scarcely believable. The same rapid repeats of chordal passages appear in the first movement, where Sokolov gives the piano such a pounding that some notes in the upper register begin slipping out of tune and make for a few interesting effects as the performance proceeds without a pause to correct the matter. Still, the scale of Sokolov's interpretive conception is awesome and often startling.
Thomas Hell has tackled a work with a stormy critical past, in his new recording Ives Concord Sonata (Piano Classics PCL 0112). Subtitled Concord, Mass. 1840-1860, Ives wanted to reflect the changing tide of American literary and philosophical thought in the mid-19th century. Each of the four movements carries the name of a significant figure of the period: Emerson, Hawthorne, The Alcotts, Thoreau. The work is quite large requiring nearly 50 minutes to perform.
Hell provides some useful thoughts on his approach to this piece. Given Elliott Carter's early criticism of its lack of form, Hell describes the sonata's components and how its disparate elements actually hold it together. This intellectual commitment to the work is what sustains Hell's performance through the daunting challenge of the first two movements. The technical demands are considerable. Hell even claims a few of the pages could be the most difficult in all the piano literature.
Ives enjoyed making musical references in this sonata, alluding to material from Beethoven to Stephen Foster along with a little ragtime. It's a rich work and a challenge to deliver. Hell has a very solid understanding of what Ives is doing, and the benefit of having spent a good deal of time considering it. His real task, however, is to make much of it accessible to the listener at first hearing. On that count he exceeds expectations. Hell plays with dexterity, intention and focus. His grasp of the material is obvious and his ability to convey it is compelling.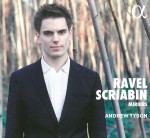 Andrew Tyson takes on an enormous task in his latest disc, Ravel, Scriabin – Miroirs, (Alpha Classics Alpha 277). His objective is to give voice to composers wandering through the universe of free-flowing impressionism in search of transcendence over their instrument and its musical forms.
Scriabin's Piano Sonata No.3 is the first challenge with its daunting stream of keyboard consciousness. The writing is replete with countless inner voices and Tyson masterfully brings them each to the surface for their brief appearance. It's an amazing technique and quite magical in its effect. Tyson is never completely bound by any rhythmic strictures. He's clearly at ease with the ebb and flow of Scriabin's language, even in the second and fourth movements, where stronger tempos dominate.
Ravel's Miroirs calls for more containment and Tyson senses this innately. His restraint is subtle yet his playing as seductive as ever. His command of colour is remarkable. The Bechstein used in the recording surrenders harp-like glissandos throughout his playing of Noctuelles. La vallée des cloches, similarly, is exquisite for its distant, mellow echoes and brighter tolls.
Scriabin's Piano Sonata No.10 Op.70 concludes the disc's program. It's Scriabin's final published work in the form. Tyson recaptures the mysticism of the earlier work on the recording and takes it even further. His execution is fluid and unbroken. His playing is passionate and ethereal. He's a truly gifted artist with an extraordinary bond to this repertoire.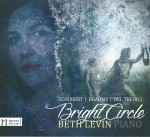 Beth Levin has a distinctive and unmistakable presence at the keyboard. Her newest recording, Bright Circle – Schubert, Brahms, Del Tredici (Navona Records NV 6074) demonstrates how her nearly pedal-less playing can open new perspectives on standard repertoire. Her performance of Schubert's Piano Sonata No.20 D959 is a good example of how a drier sound benefits the musical material by reducing sustained background harmonies. The resulting clarity emphasizes the core elements of Schubert's ideas as well as allowing other nuances to emerge unimpeded. The third movement Scherzo is a terrific example of how Levin is able to reset our expectations of familiar material using a relaxed tempo and crisp articulation. This may well have been how early pianos sounded, with their lower string tension and shorter resonance times.
Levin is, nevertheless, a deeply expressive player who never misses an opportunity for dynamic contrast and tonal shading. In the Brahms Variations and Fugue on a Theme by Handel Op.24, Levin uses her light pedalling to great effect in keeping the inner voices of the closing fugue wonderfully accessible. Other variations, No.2 and No.4 in particular, are perfectly supported by an economical and tasteful application of sustained legato playing.
The CD concludes with David Del Tredici's Ode to Music. Schubert's often sung An die Musik is the thematic kernel of this work. Del Tredici apparently offered to transcribe a favourite piece for the Dorian Wind Quintet, who responded with the choice of the Schubert Lied. Once completed, the transcription was further transcribed for keyboard by one of Del Tredici's friends who was so impressed that he wanted his own version for piano performance. While it begins conventionally, the work evolves quickly into its contemporary iteration but does so without ever letting go of its strong Romantic impulse.
Review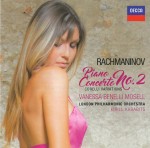 With a handful of recordings already in her discography, 30-year-old Italian pianist Vanessa Benelli Mosell has now added her orchestral debut with the London Philharmonic Orchestra on Rachmaninov Piano Concerto No.2, Corelli Variations (Decca 481 393). The concerto is a staple in the repertoire. The sheer beauty of Rachmaninoff's writing makes it a good choice for a young performer breaking into the market. The real test of this work is, however, the second movement and it's here that Mosell truly proves herself as a musician. This movement is much less dense than the outer ones and leaves the performer quite exposed with sparse lines and slow tempos. What holds this movement together for Mosell is the honesty of her playing. Nothing's contrived. Her phrasings are straightforward but clearly the product of much thought. She and Rachmaninoff are the perfect match.
The disc also includes Rachmaninoff's Variations on a Theme of Corelli Op.42. The 20 variations are an extremely demanding set to perform. Mosell plays through them with impressive ease, meeting every demand for big powerful sound as well as the deepest introspection. It's obvious she has invested a great deal in her interpretation and the impact is even more profound than her performance of the Concerto No.2. It's quite surprising that the small filler piece on the recording's program steals the show so convincingly.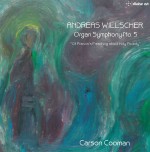 Organist Carson Cooman brings another hi-tech pipe organ recording to the market with his new release Andreas Willscher, Organ Symphony No.5 (Divine Art dda 25150). This CD is another performance using the Hauptwerk system whereby digital samples of entire pipe organs and their acoustics are played back from stored memory in live performance at a location other than the original site. In other words, not in the church where the organ resides.
The authenticity of the sound produced through this method is indistinguishable from a recording made in the church, in this case, the Laurenskerk, Rotterdam, Netherlands. The instrument recorded is a Danish build of 1973 by Marcussen & Son.
Cooman has chosen to record the 12-movement Organ Symphony No.5 by German organist and composer Andreas Willscher. It's a substantial work of 73 minutes and rich with colourful registrations and dynamic effect. Its mildly programmatic subject is "Of Francis' Preaching about Holy Poverty." The four movements marked Allegro are each brilliant and thrilling, with bold pedal lines that need durable speakers to deliver them without distortion. The quietest movements are equally impressive for the reverberant space around their sounds. The symphony's longest movement is half silence, set between long held chords. A meditative injunction comes with this movement and listeners should be prepared.
These Hauptwerk projects are important for the access they offer to instruments whose onsite recording costs would otherwise leave them unheard. Cooman has made an excellent choice of combining instrument and repertoire.