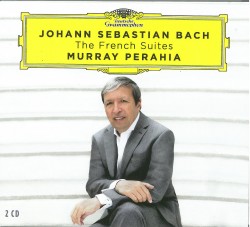 Johann Sebastian Bach – French Suites
Murray Perahia
Deutsche Grammophon 479 6565
Review
The following is an excerpt from Keyed In (December 2016) which can be read in its entirety here.
Deeper quests for meaning are becoming less rare among performers of all ages. In Johann Sebastian Bach – French Suites (Deutsche Grammophon 479 6565) Murray Perahia titles his notes "A Personal Devotion" and describes his lifelong love of Bach ignited by a performance of the St. Matthew Passion under Pablo Casals in the early 1960s. What moved the young Perahia was the humanity of Casal's approach. It rejected the strict mechanical conventions of the time and channelled the composer's voice through more modern sensibilities.
Perahia himself was greatly discouraged by the preference for the harpsichord and rejection of the piano as a legitimate instrument for Bach's keyboard music. After two years of harpsichord study, he decided to return to his first keyboard love and bring to it some of the harpsichord technique he'd acquired. This hybridization has produced a style of Baroque piano playing that has all the lightness of the period instruments but brings to it the emotional palette of our present day.
Perahia's playing is consequently a product of considerable forethought. His application of the whole range of the piano's expressive capability is carefully measured. He pedals very lightly, articulates immaculately and communicates superbly.