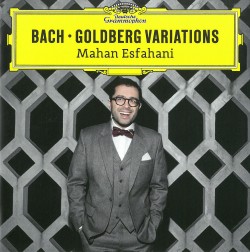 Bach – Goldberg Variations
Mahan Esfahani
Deutsche Grammophon 479 5929
Review
The following is an excerpt from Keyed In (December 2016) which can be read in its entirety here.
The Goldberg Variations are most often heard performed on piano, and we've come to assume that new recordings of the work will, naturally, be played that way. So, while harpsichord performances have narrower appeal, it's a delight to encounter one so completely engaging and satisfying as in Bach – Goldberg Variations, Mahan Esfahani (Deutsche Grammophon 479 5929). Here's a performance with enough zest and colour to rival your favourite piano version.
Esfahani achieves this several ways. He plays with a clean and agile technique. He is tastefully impressive with his elaborate ornamentations. His phrasings benefit from tempo relaxation at critical points in the melodic line. And perhaps most of all, he's just not in a rush to get to the end. Esfahani loves to explore the inner voices of these variations, challenging enough on a harpsichord, but skillfully managed with clever use of changing registrations between the instrument's two keyboards.
The recording appears to be made with large parts of the work (possibly all of it) played direct to recording without stopping for more than a second or two between variations to change keyboard stops (sounds). Performers who do this argue for the impact of the interpretive continuity this creates. Efahani's performance bears this out once again.
A fascinating feature of this recording lies in a brief note from the harpsichord technician who describes his tuning approach and explains his choices for sweeter major thirds in the keys of G and D, the home for most of the variations.