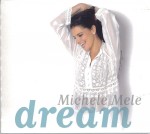 Dream
Michele Mele
Independent GKM 1001
michelemele.com
In her second inspired collaboration with producer Greg Kavanagh, luminous vocalist and contemporary jazz composer Michele Mele has once again created a recording of original music that is as accessible, captivating and refreshing as a perfect spring day. Mele's life is her musical canvas, and she allows her clever lyrics and delightfully contagious melodic lines to give us a glimpse into her most intimate feelings — and those relatable, human emotions are consistently rendered with purity, honesty and high musicality.
Dream has been expertly produced and arranged by Kavanagh, and Mele has surrounded herself with a stellar cast that includes trumpet/flugelhorn icon Guido Basso, piano genius Robbi Botos and first-call saxophonist John Johnson. Although Mele never panders to us with over-trodden standards or gratuitous scat singing, she is a serious jazz composer, lyricist and vocalist who simply prefers to colour outside the lines a wee bit — not unlike Bob Dorough, Dave Frishberg, Blossom Dearie or Mose Allison.
Standout tracks include the title song, which lures the listener directly into Mele's beautiful "dream" — lulled along by the sinewy, rich saxophone of Johnson, Botos' crystalline piano work and Mele's sensual and swinging signature vocal sound. The great Guido Basso also lends his own special magic to the CD, particularly on the track "The More" — sung in English, Spanish and French by the multilingual Mele. Also of note are the touching compositions, "Intimacy," which is breathtakingly beautiful and features a heartrending lyric, and also the witty "Anti-Magiana," which utilizes intricate Latin rhythms expertly played by brothers Lew and John Mele on bass and drums, as well as richly layered vocal nuances.