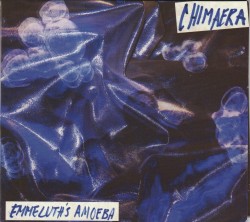 Chimaera
Emmeluth's Amoeba
Ora Fonogram OF149 (orafonogram.no)
Emmeluth's Amoeba consists of Signe Emmeluth, alto saxophone and compositions, Karl Bjorå (guitar), Ole Mofjell (drums) and Christian Balvig (piano). Their playing is tense and engaging. Chimaera was recorded in Trondheim, Norway in 2019 and features eight compositions which offer a great deal of improvisatory freedom: much of this album›s excitement comes from the contrasts between the improvised portions and the sudden interruption of composed ensemble sections. Emmeluth's saxophone is lithe and delightfully erratic and Balvig is particularly impressive with his clusters of runs and staccato interjections.
Throughout the album, change is the main constant. For example, the first half of Squid Circles features Emmeluth's skittering saxophone lines interspersing melodic fragments with quick multi-phonics. Then the drums enter with guitar and piano soon after. The last two minutes are a solid groove that builds towards an extremely abrupt ending. AB is a longer piece with a variety of sonic adventures, including a short section reminiscent of some zany music that Raymond Scott might have written. No. 1 begins with a slightly off-kilter lounge piano section and keeps this same nuanced mood as more instruments are added. It's understated and beautiful. Chimaera is an excellent album that manages to be surprising, charming and edgy at the same time.