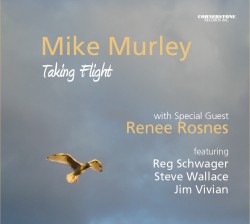 Taking Flight
Mike Murley
Cornerstone Records CRST CD 150 (cornerstonerecordings.com)
Around 1998, saxophonist Mike Murley formed a trio with guitarist Ed Bickert and bassist Steve Wallace. The group only endured until Bickert's 2001 retirement, but it represented a high point for chamber jazz: a debut CD, Live at the Senator, won the 2002 JUNO for best jazz recording; Test of Time, a later release of 1999 material, won the 2013 JUNO. The spirit of the group has found continuing life in the Murley Trio with Wallace and guitarist Reg Schwager. Taking Flight adds the superb expatriate Canadian pianist Renee Rosnes to the mix, with Jim Vivian substituting for Wallace on four of nine tracks. The group emphasizes the quiet end of the dynamic spectrum, but it does so with resilient firmness and determined invention.
The group covers a spectrum that's tailor-made to its gifts. The late Kenny Wheeler, both partner and inspiration, is represented by Winter Suite and Phrase 3, models of introspective collaboration. The former begins with just Murley's tenor, before it's joined by Rosnes' floating accompaniment. Wayne Shorter's Penelope has its own evanescent glow, and the spinning lines of Charlie Parker's Bird Feathers feels Tristano-like in this context, emphasized by Rosnes' rapid invention.
The CD concludes with Nikolaus Brodszky's I'll Never Stop Loving You, played by the trio of Murley, Schwager and Wallace and dedicated to the memory of Ed Bickert, who passed away a couple of weeks before this March 2019 recording session. No tribute could be more fitting.