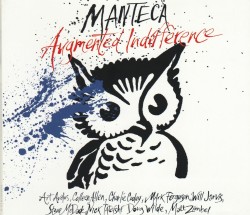 Augmented Indifference
Manteca
Mmusic MM201913-4 (facebook.com/MantecaMusic)
Happy anniversary, Manteca! A perennial audience favourite, Manteca returns to mark their 41st year with Augmented Indifference, a four-song EP bristling with their trademark energy, creativity and virtuosity. And a fitting celebration it is.
In the band's 41-year history, they have been one of Canada's leading musical ambassadors, sharing stages with Miles Davis, Ella Fitzgerald and Van Morrison. Founded by percussionist Matt Zimbel and bassist Henry Heillig, who ws the group's music director for three decades, the group has been recognized as a musical innovator, drawing upon diverse influences in exhilarating performances. Accordingly, this latest release finds the group charting out new directions, while also revisiting more familiar musical territory. Miss Meteo, arguably the most experimental song, pairs electric guitar with spoken word, trumpet and the bass clarinet of Colleen Allen, along with alternating driving rhythms and spacey textures. Somehow, they make it all work! Busking In Deadwood, introduces a beautiful, majestic melody and features some outstanding work by Lucas Zimbel on accordion and Steve McDade on trumpet.
The aptly titled Avant Cool highlights the innovative pairing of guitar and alto flute, while the set closer, a Beach Boys-inspired Kowabunga, again features guitarist Nick Tateishi alongside bright, punchy horn backgrounds. Let's all raise a glass to Manteca – here's to another 40 years!