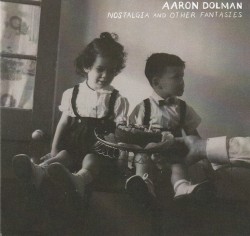 Nostalgia and Other Fantasies
Aaron Dolman
Independent (aarondolman.com)
Montreal-born, up-and-coming drummer, composer and bandleader Aaron Dolman takes the listener on a meandering trip through music with his latest release. Closing your eyes while listening to this record evokes a feeling as if you were in a film, with each track bringing up a vivid image in the mind to accompany the melodies. Each piece is composed by Dolman himself and features younger musicians such as Marcus Savard-Lowry and Zacharie Bachand on guitars, Mathieu McConnell, bass, and Caitlin Smith on viola and vocals. The folk element imbedded in many of the pieces is a welcome and pleasing experience to the ear.
Gone for a While II is an atmospheric and ethereal beginning to the album, a fitting start to the journey on which the listener is about to embark. Stars in a Midnight Lake features a beautiful acoustic guitar riff underlying the entire piece, with the soft vocals by Smith joining in during the middle of the song for a wonderful and captivating interlude. The reprise of Willow Bunch is a joyful conclusion to the record and to the almost cinematic ride the listener has been taken on. The enjoyment in this album comes from not knowing exactly what's going to be happening musically behind the next turn in the road, so to speak. It provides for an interesting listen that truly pulls you in and keeps you focused on the music.