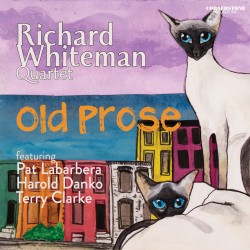 Old Prose
Richard Whiteman Quartet
Cornerstone Records CRSTCD 151 (cornerstonerecordsinc.com)
Toronto pianist Richard Whiteman developed a late fascination with string bass about a decade ago, rapidly becoming an adept performer, as demonstrated here in a 2019 performance from the Huether Hotel's Jazz Room in Waterloo, Ontario. Another distinguished Toronto multi-instrumentalist, Don Thompson, has described Whiteman's bass lines as "Bach-like" in their precision. Perhaps it's a pianist's special gift, but it's apparent here in both accompaniment and some well-constructed solos.
Perhaps befitting a bassist's role, Whiteman may be the most retiring member of his own quartet. The principal role is given to visiting American pianist Harold Danko who provides five of the six compositions played here, while tenor saxophonist Pat LaBarbera and drummer Terry Clarke supply much of the band's fire. The music is consummate mainstream modern club jazz, focused, energetic, sometimes dense, sometimes lyrical, often intense, but always involved and involving.
Though Danko has worked extensively with cool jazz giants like Chet Baker and Lee Konitz, his compositions reveal the breadth of his inspirations. Blue Swedish Wildflower is gently melodic, with Danko's own introduction reaching toward the rhapsodic; McCoy's Passion, however, a clear nod to modal master Tyner, is an open invitation to LaBarbera and Clarke to summon up their roots in the inspirational turbulence of John Coltrane and Elvin Jones. That balance between the gentle and the edgy, sometimes contrasting, sometimes combined, distinguishes this entire set of engaged post-bop jazz, crafted by senior masters.