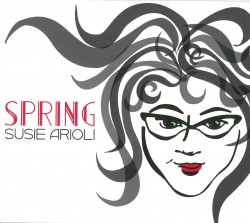 Spring
Susie Arioli
Spectra Musique SPECD-7854
(susiearioli.com)
For this, her eighth studio album, Montreal-based singer Susie Arioli looked to Toronto and its roster of heavy-hitters in the jazz realm for support. Produced by Grammy Award-winner John Snyder and arranged by the legendary Don Thompson, Spring is about renewal and fresh starts. In other words, it's a break-up album. A glance through the list of songs – Those Lonely, Lonely Nights, Me Myself and I, After You've Gone – tells the story. The clever illustrations by Arioli that accompanying each song title on the CD cover, literally paint a picture.
So, while lyrically this is an unhappy album, the music is anything but. There's nary a ballad to be found. It's upbeat and swingy with a bouncy horn section and Arioli's deep, warm voice casually cataloguing a list of hurts. With Thompson's vibraphone doubling Reg Schwager's guitar, the cool 60s are evoked on a number of tunes including Mean to Me and I'm the Caring Kind. Arioli's own compositions, of which there are four on the album, range in style from a country and western homage to the lure of the bottle on Can't Say No, to a breezy bossa nova-style indictment of infidelity on Someone Else.
Ariloi has a number of tour dates in 2016 in Quebec, with more to come. Check susiearioli.com.