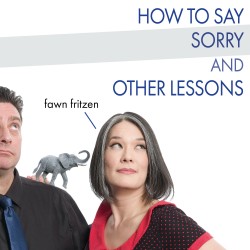 How to Say Sorry and Other Lessons
Fawn Fritzen; David Restivo
Chronograph Records CR-081 (chronographrecords.com/releases)
Canada bristles with artistry from coast to coast to coast. Still, you cannot but be awed by this one from Yukon's own. The inimitable Fawn Fritzen is a wonderfully seductive vocalist and a superb lyricist who writes not with a pencil but rather with the raw nerve endings of her very fingers.
We experience her emotional musicality throughout the repertoire on How to Say Sorry and Other Lessons. This is wonderful songwriting, and singing, of course. Fritzen tells us: "My life was in chaos" but that she found "the right tools… Compassion, Letting Go, Grief, Healing." She wears her heart on her proverbial sleeve through this recording. While we are struck by her candidness, we must also admire the fact that Fritzen navigates her emotions without an ounce of gratuitous sentimentality – through music that balances deep song and unfettered swing. As a result, this emotional musical journey is also buoyed throughout by a sense of recovery.
I would be remiss not to recognize her co-producer and pianist, David Restivo, whose contributions cannot be overstated. This astute partnership is particularly evident on Kintsugi, a song with diaphanous, yet delicate, Japanese inflections. Bassists Doug Stephenson and John Lee; drummers Tony Ferraro and Kelby MacNayr are superb throughout. Meanwhile, when called upon to lend a helping hand to Fritzen, vocalists Melody Daichun and Laura Landsberg add superb colour and texture to Show Me Your Heart and Dragonfly to close out the recording.