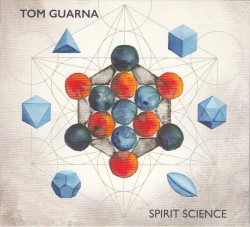 Spirit Science
Tom Guarna
Destiny Records DR-0030 (destinyrecordsmusic.com)
Renowned jazz guitarist Tom Guarna, often named alongside greats such as John Scofield and Bill Frisell, has released a delightful record, taking the listener on a pleasing and progressive journey through a spacious jazz world; each track like a different chapter of the trek with its own distinct moods and soundscape. All tracks are penned by the guitarist himself and feature an all-star group of musicians including Ben Wendel on tenor saxophone and bassoon, Aaron Parks on keyboards, Joe Martin on bass and Justin Faulkner on drums. Such a unique instrumentation only serves to further highlight Guarna's compositions and breathe an additional energy into them.
The album has been mentioned as having a cohesive theme that is inspired by "the science of sacred geometry" which is reflected in each piece; while singular instruments meander on their own set melodical paths within the songs, they come together as a satisfying and coherent whole that calls to mind a geometric shape. Specifically, in Metatron's Cube, this organized progressiveness is noticeable, with the rhythmic groove and distinct bass melody lending structure to the piece while soaring sax, guitar and piano solos create the sense of spaciousness and freedom. Crossing over seamlessly between progressive rock and traditional jazz, the album is a must for fans of either genre that are looking for a fresh perspective on how Metheny-esque synth and electric guitar use can be taken a step further into a new and unique dimension.