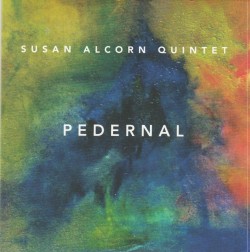 Pedernal
Susan Alcorn Quintet
Relative Pitch RPR1111 (relativepitchrecords.com)
Over the past 20 years, Susan Alcorn has emerged as one of the most creative figures in jazz and improvised music, brilliantly exploring the sonic resources of the pedal steel guitar, especially the pitch bending and shifting possibilities little explored in its country and western home. In Alcorn's hands, the instrument is a self-contained orchestra, able to suggest the elegance of Astor Piazzolla, the wandering mysteries of Harry Partch, the cosmic majesty of Olivier Messiaen or the raw energy of Ornette Coleman.
Here Alcorn introduces her compositions for a mostly string quintet with violinist Mark Feldman, bassist Michael Formanek, guitarist Mary Halvorson and drummer Ryan Sawyer. Named for the Pedernal Mesa in New Mexico, the CD's compositions abound in geographical references. Along with the personnel and general musical quality, it suggests another recording: Nate Wooley's 2019 masterpiece, Columbia Icefield, on which the trumpeter debuted a quartet with Alcorn, Halvorson and Sawyer.
Alcorn's melodic and textural visions come to the fore on the title track, the extended Circular Ruins and A Night in Gdansk. There's an affinity with Morton Feldman in the rich sustained tones, and a near twinship with Halvorson, whose pitch-bending guitar hardware can ambiguate the source of some burbling, microtonal washes of notes. The concluding Northeast Rising Sun may allude to Maryland highway signage, but the music is a playful romp, beginning with clapping accompaniment then combining a Sufi refrain with elements of an Irish community dance. It's delightful stuff.