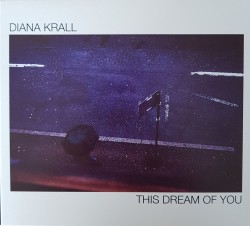 This Dream of You
Diana Krall
Verve B0032519 (dianakrall.com)
Four years ago, Diana Krall was working in the studio with her longtime, legendary producer Tommy LiPuma. LiPuma was ill and Krall knew it, so the pair recorded over 30 tracks during those sessions. The initial result was Turn Up the Quiet, released in 2017 shortly after LiPuma died. That album was a return to Krall's classic, stripped-down jazz sound and This Dream of You is a continuation of that exploration. An homage to the Great American Songbook, and her friend and mentor, Krall delivers the exquisite sound and technique we've come to expect from her, both on piano and vocals.
Working with three different small ensembles, the majority of the songs are with her bandmates, John Clayton (bass), Jeff Hamilton (drums) and Anthony Wilson (guitar). The opening track with that crew, But Beautiful, sets the minimalist tone as the album moves from breathy ballads to gently swinging mid-tempo standards. It diverges into somewhat trad/rootsy territory on three tracks featuring the ensemble of Marc Ribot (guitar), Tony Garnier (bass) Karriem Riggins (drums) and Stuart Duncan (fiddle), including the title track, a country-tinged Bob Dylan tune. In-demand players, Christian McBride (bass) and Russell Malone (guitar), appear on two tracks, including a gorgeous, slower-than-slow rendition of Autumn in New York.
The top-notch production has Krall's vocals front and centre in the mix so it sounds as if she's right in the room with you, giving you a big old aural hug. It's just what the doctor ordered in these pandemic times.