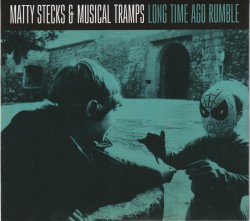 Long Time Ago Rumble
Matty Stecks & Musical Tramps
Matty Stecks Music RAC-530/digital available (mattystecks.com)
One of the main difficulties artists face is that of fully realizing their ideas. In the case of Matthew Steckler however, the Manitoban seems blessed with both the burden of an abnormally creative mind and the gift of being able to make the most of his artistic impulses. His latest experiment began life as a debut concert with a virtuosic band he meticulously assembled and later blossomed into what he describes as a conceptual research project in the stylistic marriage of jazz, pop, film score and musique concrète. Taking after his hero Charlie Chaplin, Steckler (aka Matty Stecks) goes the auteur route with his involvement in this album. He is one of two producers, writes all the material, does all the arrangements, contributes field recordings, acts as bandleader and expertly plays several instruments. Steckler particularly shines on saxophones, his Dolphy-esque phrasing as unpredictable as the music.
This may be the most eclectic jazz release you hear this year. Each track could be labelled as a different genre, and one could make comparisons to artists ranging from Chaka Khan to Frank Zappa. The track list alternates between traditional structure and collective improvisations structured around field recordings provided by various band members. While at first glance this album may not appear to work as a uniform statement, what connects these pieces is the sense of adventure Steckler maintains throughout the runtime. Highly recommended.