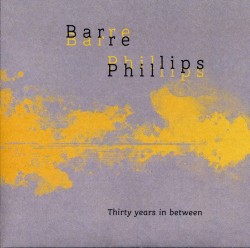 Thirty years in between
Barre Phillips
VICTO cd 132/08 (victo.qc.ca)
Proving that an old double bass soloist can still learn new tricks isn't the point of Thirty years in between. Instead, coupling a genre-defining 1989 solo disc from the now 85-year-old American bassist Barre Phillips with a new set of live solos from FIMAV 2019 makes clear how mature savvy has replaced adroit swagger. Not that the 1989 tracks aren't dazzling, as Phillips was pioneering a novel approach to soloing. With fluid variation at both ends of the timbral spectrum, he maintained a warm expansive tone, whether he was pummelling pumping variables from the bottom tones or using hard-edged spiccato to extract narrowed multi-string squeaks,
By 2019 however his strategy has been distilled to its essence. Pared away from sometimes baroque-like formalism and showy staccato runs, he concentrates on moody narratives. Mellow in his echoing tones, Phillips still makes use of col legno slaps and spiccato reverberations, with some passages taken prestissimo. But by keeping most interpretations at a low simmer he isolates rubs and pops then plays up the suppleness of variously angled string sets and the instrument's woody reverb. Animated with harsh stropping when needed, as on Abate? Arise?, silences are also prominent. The concluding A new take strings together old and new techniques. Alternating between cultured sweeps and gaunt shrills, a display of triple stopping is followed by thin moderated slides to the finale. Obviously Phillips was a master solo bass player three decades ago – and he retains that skill.