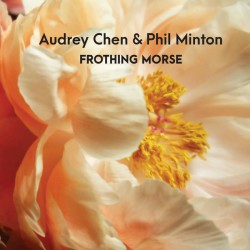 Frothing Morse
Audrey Chen; Phil Minton
Tour de Bras TDB904 (tourdebras.bandcamp.com/album/frothing-morse)
Phil Minton, just turning 80, may be the world's most creative vocalist. Elsewhere his repertoire can include The Cutty Wren, a Peasants' Revolt song about eating policemen, and Lieber & Stoller's Jailhouse Rock lyrics applied to a serial melody (both to be heard on the recent Ways for an Orchestra with Veryan Weston and a Bologna chamber orchestra [i disci di angelica]). If you want, however, to hear a human approximation of a tone arm bouncing across the surface of a vinyl LP of a cat screeching, Minton, the free improviser, is also your man; his duet partner, Audrey Chen, similarly in possession of titanium vocal apparatus, might very well be your woman, and Frothing Morse is the place to hear it. The two have been singing together for a decade, previously releasing both duet and quintet CDs (on Sub Rosa) and there's a recent COVID-lockdown performance on YouTube.
Recorded at an Italian festival in 2015, the single 37-minute Frothing Morse covers extraordinary ground, from madness to code, the two singers following or diverging from one another's inspirations, whether they're Chen's whistling highs, abrasive choking and ringing throat-singing tones or Minton's machine and animal impressions, yodelling, babbling and multiphonics. Their work is usually surprising, often visceral, strangely moving, but most significantly, liberating, a crash course in the sounds that can come out of humans' mouths with barely a trace of speech, a panoply of emotion in a moment.