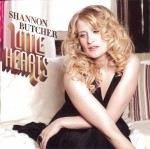 Little Hearts
Shannon Butcher
Independent SB2010
(www.shannonbutcher.com)
Jazz singer Shannon Butcher has come out with another great album and its main strength is in the material she's chosen to cover. She's done what I think all modern jazz singers should be doing, i.e. quit covering the done-to-death standards and look to a more modern songbook for fodder. Sure there's a place for the Gershwin and Porter rehashings now and then - especially in live performance - but when greats like Ella and Sarah have recorded them before, a singer had better be bringing something pretty interesting to the party, or why should we buy it? So when I see 70s and 80s tunes on a CD cover, as is the case with "Little Hearts," it's a sign that an artist is thinking outside the box, and that's what jazz is all about. The Bacharach-David beauty Walk on By gets a moody, heartfelt treatment that reflects the sentiment of the lyrics better than the peppy Warwick original (sorry Dionne!) and Bryan Adams' Run to You goes Latin American with Daniel Stone on cajon and Rob Piltch doing his usual tasteful nylon string guitar work.
Butcher has also done some very fine songwriting on this album. Joy in My Heart kicks off the disc with a soulful ode to staying positive and the duet with the enormously talented Michael Kaeshammer - The Last Word - is a cute nod to 60s romantic comedies. The one older standard covered here - Irving Berlin's What'll I Do - has been given an inventive alt-country facelift courtesy of Piltch's twangy, plaintive guitar work.

Concert Note: Butcher's CD release event is at Hugh's Room on June 2.