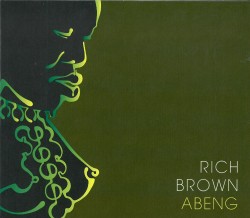 Abeng
Rich Brown
Independent RDB03 (rinsethealgorithm.bandcamp.com/album/abeng)
Review
Rich Brown, one of Canada's and the world's preeminent bassists, has produced an impassioned reaction to, and path forward from, some of the darkest forces of human nature, specifically racism and divisiveness. He has chosen the abeng, an instrument originally fashioned by escaped Jamaican slaves, as a metaphor for a call to unity. This message comes at a perilous time in world affairs. He has assembled a cast of some of Canada's top musicians to interpret Abeng's compositions and the result is great depth and complexity. The rhythm section team of Brown and drummer Larnell Lewis establishes a broad, open canvas on which everything seems possible.
Mahishmatish opens the recording with a melody that incorporates a long held note, perhaps the sound of the abeng. Saxophonists Luis Deniz on alto and Kelly Jefferson on tenor trade phrases that rise in intensity with the incredible feel and interplay provided by Brown and Lewis. Pianist Robi Botos solos effortlessly over Window Seat's across-the-bar-lines groove. Chant of the Exiled (Abeng) is a perfect miniature, featuring trumpeter Kevin Turcotte and percussionist Rosendo Chendy Leon in its mournful exploration. Brown holds off until track four, Promessa, before treating us to his remarkably lyrical bass soloing. Chris Donnelly, who shares keyboard duties with Botos, plays a beautifully evocative intro to This Lotus Ascension and continues on to improvise over the doubled bass/alto sax melody. Abeng is a masterful recording that confirms Rich Brown's position as one of our country's most important musicians.
Concert Note: Rich Brown and the Abeng Quintet open for the Ernie Watts Quintet on May 21 at the George Weston Recital Hall.