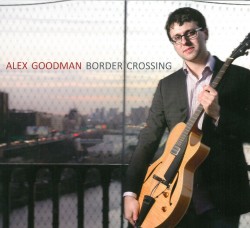 Border Crossing
Alex Goodman
OA2 Records OA2 22130 (originarts.com/oa2)
Composition and improvisation flow freely into each other on guitarist Alex Goodman's Border Crossing. For his latest recording Goodman has assembled what can best be described as a jazz chamber group. His writing is ambitious and complex, making full use of the wide range of colours available from this outstanding ensemble. Andrew Downing, who doubles on bass and cello, and vocalist Felicity Williams contribute to the group's ability to cross genres as does Goodman's extensive use of the acoustic guitar.
Acrobat opens the album with acoustic guitar and percussionist Rogerio Boccato's unique and inventive textures. Williams glides through the tune's moody melody, its lyrics equating a man's searching nature with an acrobat's skills. Vibraphonist Michael Davidson's judicious phrasing builds the intensity of his solo and Goodman demonstrates virtuosity, making use of wide intervals in a highly lyrical fashion.
With Thanks is an epic composition that displays the full range of Goodman's writing skills as well as the band's remarkable ability to interpret them. Williams effortlessly negotiates the intricate melody and solos are individually framed to provide contrast and variety. Drummer Fabio Ragnelli improvises fluidly over unpredictable rhythmic shots as the piece segues smoothly through what could be a disparate series of events. Pure Imagination, the only other tune with lyrics on the album, might offer an answer to the yearning expressed in Acrobat. Williams sings of the power of imagination to shape the world, nicely bookending this impressive and beautiful recording.