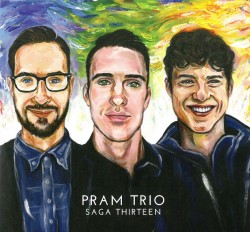 Saga Thirteen
Pram Trio
Independent (pramtrio.com)
Pram Trio's Saga Thirteen offers a refreshing and contemporary take on the time-honoured piano trio format. The album's six tunes share a penchant for rhythmic adventure and a fluid approach to the line between composition and improvisation. This is unabashedly tonal music that isn't afraid to be tuneful or leave space for the listener to enter. The playing and writing have a strong conversational element and, while the virtuosity of the group's members is evident, the overall impression is of a distinct and identifiable group sound.
Bassist Mark Godfrey's April opens the record with a compelling two-chord vamp supporting a deceptively simple melody. The trio's sense of dynamics and interplay are clearly the work of three equal voices and pianist Jack Bodkin's solo, displaying a remarkable range of materials, emerges from the mix in an organic fashion. Bucket List, also by Godfrey, begins with a rootsy bass intro leading to a folk-like melody that proceeds to take some surprising turns. Bodkin's Mrs. Kim Visits the Living Room Alone juxtaposes an intriguing piano figure over Eric West's rocking drum groove. March rhythms compound time signatures and contrasting sections unite to form this compact, through-composed piece. Control, another Bodkin composition, continues the through-composed theme with an exercise in space and brevity, aided by West's open, transparent style. Godfrey's Treptower Park returns to more familiar jazz terrain with exciting and inventive playing from the whole band. Bodkin's piano solo in particular is a marvel of colour and variety.