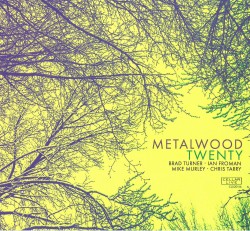 Twenty
Metalwood
Cellar Live CL020116 (cellarlive.com)
Metalwood, one of Canada's prototypical electric jazz ensembles, has reunited for their first recording in over a decade. This style of jazz has been around for long enough to have become firmly entrenched in the mainstream of the music and Twenty is a testament to many of its best and most exciting aspects. Bassist Chris Tarry's The Path Before You establishes the group's focus on the first track. This is groove oriented, electric music played from an undeniably jazz perspective. The rhythm section of Tarry and drummer Ian Froman form a highly interactive unit, reacting to and eliciting stellar solos from multi-instrumentalist Brad Turner, on piano here, and veteran saxophonist Mike Murley. Both soloists are clearly going for it in this strong opener, capturing the intensity of the tune's Weather Report-ish vibe.
Turner's Bodybeard opens with an incredibly funky intro on Fender Rhodes electric piano before giving way to some deep syncopation from Tarry and Froman. Turner, playing wah trumpet, and Murley on tenor demonstrate remarkable soulfulness combined with chromaticism over the deceptive simplicity of the tune's harmony. The brief quote from Eddie Harris' Freedom Jazz Dance at the end of the melody is a nice nod to one of the originators of this music.
Extra Salty, the sole Murley composition on the recording, juxtaposes a compelling melody over a bass ostinato in three and features the only bass solo on the CD. Tarry solos with great tone, technique and lyricism, leaving us wanting more.