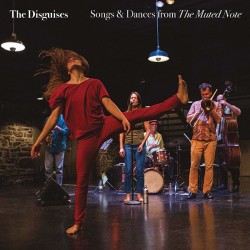 Songs and Dances from The Muted Note
The Disguises
Ambiences Magnetiques AM 227 (actuellecd.com)
Trombonist/composer Scott Thomson crafted this series of song settings for poems by the late British Columbian poet P.K. Page in 2012-2013, first recording them in a series of spare and artful duets with the singer Susanna Hood (The Muted Note, & Records, ET20). The project later expanded to include Hood's choreography for four dancers and a quintet called The Disguises, adding alto saxophonist Yves Charuest, bassist Nicolas Caloia and drummer Pierre Tanguay to the original duo. The result is remarkable, sacrificing some intimacy but gaining greater resilience and highlighting the strength of Thomson's melodies, like the vibrant Picking Daffodils.
The Disguises represent some of Montreal's finest improvisers and Thomson has achieved a fine balance in the writing, creating arrangements that frame and expand Page's luminous language without drowning it out, sometimes employing understated dissonance to suggest ambiguity. Thomson has studied with the veteran trombonist Roswell Rudd, and at times The Disguises strongly suggests the clarity and interplay of the New York Art Quartet, the brilliant band that Rudd co-led in the mid-60s: Charuest's solo on The Understatement consists of brief elliptical phrases with shifting timbres, recalling the subtle work of NYAQ saxophonist John Tchicai.
While it's the wedding of poem and sound that unites these works, moments of spontaneous musical creation abound, like the energy and precision that Caloia and Tanguay bring to The Disguises/The Masks, or the dovetailing lines of Hood and Charuest on Star-Gazer. Thomson's accompaniment to Hood's voice on The Metal and the Flower flirts with silence to suggest birds and tiny woodland creatures, while the brashly vocal, plunger-muted solo of The Mole conveys generations of jazz trombone playing.