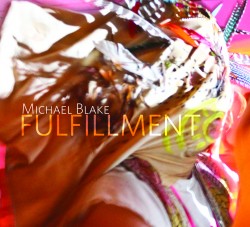 Fulfillment
Michael Blake
Songlines SGL1615-2 (songlines.com)
Michael Blake is among New York's most esteemed saxophonists, but he frequently returns to Vancouver where he works with some key members of the city's jazz community. Fulfillment is a very special Vancouver project that uses up to ten musicians in an extended suite devoted to a dark episode in the city's history: in 1914 several hundred Sikh immigrants on board the Komagata Maru were refused entry to Canada by means of laws designed specifically to exclude Asians. In subsequent events, advocates for the passengers were murdered in Vancouver and 19 were killed in an altercation with British officials on their return to India.
Blake's suite abounds in complex emotions and original textures, gradually developing a cumulative impact. The theme of the opening Sea Shanty intertwines his soprano saxophone with Emma Postl's voice to create an effect that's at once dissonant and ethereal; there's a coiling improvised duet between Blake's soprano and Chris Gestrin's synthesizer on Perimeters in which the two instruments are almost indistinguishable; a series of duets among the string players on Arrivals is highlighted by the unlikely combination of Peggy Lee's cello and Ron Samworth's banjo. Exaltation is an extended jam that adds Neelamjit Dhillon's tabla drums to the densely textured rhythms created by drummer Dylan van der Schyff, bassist André Lachance and the rest of the group.
At the core of Blake's music there's the consistent legacy of modern jazz, from the extended use of blues structure and compositional inspirations from Ornette Coleman, Charles Mingus and Oliver Nelson to the overarching expressive power of his tenor saxophone, best embodied here on the evocative Battle at Baj Baj, directly inspired by John Coltrane's elegiac Alabama.