Matching Electronic And Acoustic Improvisation
At least since 1948, when French theorist Pierre Schaeffer coined the term musique concrète as serious composers and performers began experimenting with technology to create music, the possibilities available from the use of electronics became accepted. Today electronically advanced sounds are as common and expected as outlandish tonsorial choices for pop stars. Electronic processing has also been adapted to create more variables in improvised music. Although some purists renounce non-electronic sources completely, in the main those players that create a nourishing musical meal by pairing electronic and acoustic impulses appear to end up with the most interesting programs.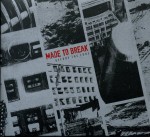 Made to Break for instance is a quartet consisting of Americans Ken Vandermark on saxophones and clarinet, and drummer Tim Daisy, plus Dutch electric bassist Jasper Stadhouders and Austrian Christof Kurzmann playing the lloopp, interactive MaxMSP software for an Apple Mac. The key to the three tracks on Before the Code (Trost TR 141 trost.at) is how well Kurzmann's apparatus links with the others' free-form improvising. Never suggested is the image of an improvising trio playing in one area and a lab-coated sound scientist wriggling his machine's dials in the other. Whether it's swifter, extended fare like Dial the Number or Window Breaking Hammer or the mellow interlude that is Off-Picture No.119, the lloopp's distinctive undertow complements the acoustic playing like fine plating for a meal in a gourmet restaurant. The last track is particularly enhanced as accordion-like tremolos from Kurzmann help slide Vandermark's hurtling saxophone honks into a form that's both chipper and clanging. On the faster tracks Stadhouders' resonating thumb pops and Daisy's backbeats join with lloopp tones to create a continuum. But considering that Kurzmann's interface can at points resemble teletype keys code or an electric kazoo, those effects are unique. Crucially, the concluding Window Breaking Hammer defines the latitude available. Following a dispassionate hand-drum display and wafting clarinet warbles, near moderato is traded in for near-metal with Vandermark's baritone saxophone blasting away and Daisy beat crunching. Coupled with Kurzmann loops, this makes the climax distinctive as well as dramatic.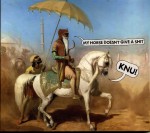 In-your-face mockery shares space with musicianship on My Horse Doesn't Give a Shit (Unit Records UTR 4609 unitrecords.com) as the German Knu! trio uses Achim Zepezauer's electronics, Florian Walter's baritone saxophone synthesizer and Simon Camatta's drums to create the improvised music equivalent of punk rock. Over the course of 14 tracks, some with semi-scatological titles, rawness is the outstanding leitmotif. Walter's glottal blasts often evolve in direct counterpoint to the electronic processing, while shaded drumbeats underline that contest. In a way it's the equivalent of a 1950s film on juvenile gangs, with Zepezauer and Walter facing off for a rumble and Camatta's recurrent beats setting up the confrontation. Although Zepezauer's programs can create unattributable textures, he's more interested in chameleon-like reverses. He replicates roller-ring organ tones on Mit Dir Am Hafen, spelled by back beat drums and reed tones that seem to be filtered through a sieve; matches cymbal scrapes and sax tongue stops with signal-processed buzzes on Austritt; plus the connected Brotwar Quadrata and Fifty Shades of I Don't Give a Fuck. Lyricon-like whooshing produces a seemingly endless disco-dance-like rhythm cannily burlesqued by reed overblowing on some tracks. Zepezauer also layers the tracks with programming tropes. Recordings of German and English voices are introduced to many tracks, subsequently cut off, slowed down or sped up so they resemble cartoon chipmunk chatter. Flanged interruptions sound like magnetic tape running backwards, which on Den Hooran challenges Camatta's stick whumps and cymbal clanks and Walter's intermittent processed buzzes. The brief Thank You Mom melds pre-recorded marching band echoes with live beats pumping from the others. Insisting like a punk band that the CD be played loud, there's enough distance and detail expressed here to distinguish Knu! from rock primitives.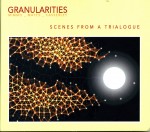 From the opposite side of the equation is Scenes From A Trialogue (Amirani Records AMRN 045 amiranirecords.com) by Granularities consisting of soprano saxophonist Gianni Mimmo; valve and alphorn player Martin Mayes, both of whom are Italy-based, and Lawrence Casserley's signal-processing instrument. One of the first students of electronic music at London's Royal College of Music in the 1960s, Casserley subsequently taught at RCM while adapting software to transform the sound of his collaborators including Evan Parker. Although the tracks on Scenes From A Trialogue have subtitles like Overture, Entr'actes and Acts/Scenes it's no academic treatise. Instead the CD shows how an undercurrent of warm machine-sourced oscillations provides an appropriate frame – with auxiliary decorations if needed – for a sound canvas illustrated with painterly dabs of reed tone bursts and lonesome French horn echoes. Since Casserley's granular synthesis layers timbres at varied speeds, volumes and densities, on Open Space for instance he regurgitates reed and brass sounds like those played by the horns, as additional staccato jabs upset the interface. In the same fashion, wind-like textures drone in the background of Entracte 1 as a solo valve horn exposition expands with polyphonic glissandi. Opaque drones create a sense of stoic inevitability, like ocean tides advancing and retreating, on the disc's penultimate and concluding tracks. Concentrated granulation from Casserley's machine cunningly joins Mayes' muted slurs and Mimmo's contralto trills, so that the sonic wedges unite with the logic of a baroque chamber piece. Earlier the connected Sacred Site – Procession and Sacred Site – Dark Ritual reveal an analogous concordance but with sharper edges, like a dagger compared to a butter knife. It's the electronics which splinter the horns' near-impressionistic mellowness with a mallet-like scrape across unyielding surfaces and dynamic whooshes. Ultimately Mayes' mahogany-tinged tones and Mimmo's wheezy reed trills unite with Casserley's burbling densities for a harmonized climax.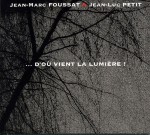 Going mano-a-mano, French clarinetist/saxophonist Jean-Luc Petit and electronics manipulator Jean-Marc Foussat create a self-contained sound world on …D'où Vient La Lumière! (Fou Records FR-CD 13 fourecords.com). Oddly enough the program is initially more rustic than urban with buzzing bee oscillations and ring-modulator created aviary chirps heard on the first track, plus rooster-like crowing and cicada-suggesting chirrups which emanate from the electronics on the second and title track. At points, Petit fishes out deeply embedded notes from within his bass clarinet as if they were tadpoles caught in murky algae. A climax is reached on the penultimate Premières curiosités as Foussat's multi-channel wave forms become louder and more clamorous until they form an impermeable mass. In response, Petit's quick yelps and circular breathing confirm the acoustic qualities of his sopranino saxophone. Although each player's timbres are initially isolated like pinpointed colour on an otherwise all-white painting, the textures eventually blend to such an extent that at points it's impossible to distinguish a specific source. Intensifying his attack to atonal echoes and kazoo-like squeezes as he shifts to alto saxophone on Un animal qui me plaît, Petit presages the perfect finale. With reed multiphonics splayed in front of undulating drones, the ending is as spiritually appropriate as if reflecting a soloist testifying in front of a mass choir.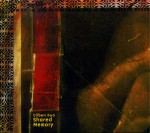 Unlike Foussat and Petit, whose approach is based on unifying impulses from unique instruments, the Uliben Duo's CD Shared Memory (Creative Sources CS 327 CD creativesourcesrec.com) more accurately describes the performance of French bassist Benoit Cancoin facing the live processing of German Ulrich Phillipp. In other circumstances Phillipp also plays bass, so his electronic impulses are informed by that knowledge. Throughout he stretches the processing function so that it not only accompanies, but also enhances the double bass' tonal qualities. More than replicating Cancoin's initial sounds, Phillipp's often tandem, frequently wriggling, textures extend the bull fiddle's range, directing acoustically sourced sounds to unforeseen places. While there are instances of skyrocketing sound eruptions and multiplied string drones on the tracks surrounding Joint Repository, this over-40-minute improv gives the players ample space to define and perfect their hook-up. Like stars floating in a night sky that illuminate at junctures, different sequences are prominent in stages. Languidly expressed, bowed resonations and bottle-top-like pops from the higher-pitched strings solidify into an electric shaver-like buzz via Phillipp's electronics, with Cancoin interjecting sporadic mandolin-like plucks. By mid-point however, a euphonious bassoon-tempered tone predominates, until split into separate streams of sprawling, spiccato thrusts from the bass and an assembly line of crackles and drones from the electronics. Before individual improvisations dribble away into irreconcilable solipsism, the program speeds up to sound like two double basses, courtesy of Phillipp's machine-processed memory. As brief interludes where graininess reveals one tone's electronic origins and Cancoin's acoustic pulls, the "humanness" of the other strands finally unite. The finale finds the two fading into a single sonic source like the fused profiles at the climaxes of the film Persona. Used judiciously with respect from both sides of the acoustic-electric divide, processing can create memorable discs of unanticipated sophistication like these sets.