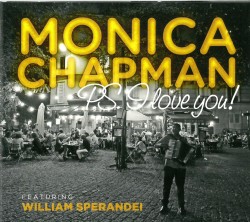 P.S. I Love You
Monica Chapman; William Sperandei
LME Records 6 79444 20020 0 (monicachapman.net)
With P.S. I Love You, talented vocalist Monica Chapman presents an engaging collection of material that is both nostalgic and romantic, but with a discernably sensual and torrid blues sensibility. She has surrounded herself with intuitive musical collaborators, including JUNO-winning producer/pianist Bill King, whose innovative arrangements (as well as his piano work) really define this well-conceived project. Other first-call musicians include Dave Young on bass, Nathan Hiltz on guitar, Mark Kelso on drums and featured guest, William Sperandei on trumpet.
First up is Irving Berlin's Tin Pan Alley hit, I Love a Piano, which sets the stylistic tone and is sung with the rarely performed verse, which then segues into a funky chitlin' circuit jam, replete with a burning hot trumpet solo from Sperandei. The title track is the rarely performed Gordon Jenkins/Johnny Mercer ballad, which was most notably recorded by the incomparable Billie Holiday. In Chapman's interpretation she has captured an appropriately ironic, bittersweet subtext while clinging to the beauty of the melodic line and lyrical intent.
Of special note is another Berlin tune, Shaking the Blues Away, which is perhaps most recognized as the four-alarm number performed by Ann Miller in MGM's classic movie musical Easter Parade – cleverly delivered here with a spicy Louisiana roadhouse feel and lusciously languid vocals. A real treat (and slightly forward in the timeline) is Lionel Bart's theme from the 1963 James Bond flick, From Russia with Love, which is perfectly arranged for Chapman's luscious voice in a pure, classic jazz mode. This CD is a stunner, and a wonderful follow up to Chapman's 2014 debut CD.
Concert Note: Monica Chapman launches P.S. I Love You at Lulu Lounge on April 24. Dinner reservations recommended.