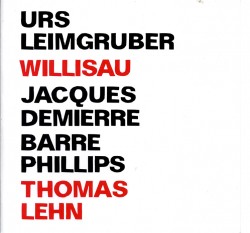 Willisau
Leimgruber/Demierre/Phillips/Lehn
Jazz Werkstatt JW 191 (jazzwerkstatt.eu)
Adding another voice to an established trio is a risk. But as these extended performances from saxophonist Urs Leimgruber and pianist Jacques Demierre, both Swiss, and expatriate American bassist Barre Phillips indicate, the inclusion of German Thomas Lehn's analogue synthesizer illuminates new tinctures in the improvisational picture the others perfected over nearly two decades. This ever-shifting continuum of electronic judders not only enhances this program, but also allows the creation of parallel duos. For the first time, low-pitched string bowing is matched with keyboard strums and cadenzas while altissimo reed sputters are backed by wave-form grinding. Throughout, partners are changed as in a decidedly un-square dance.
Individual set pieces for each remain though, as when Lehn's vibrations alternate wood-flute-like gentleness and intensely vibrated doits, subtly seconded by pumping piano cadenzas; or when the jagged subsequent shape of Monkeybusiness 2, defined by Phillips' low-pitched sweeps in the introduction, darkens and deepens to spiccato string pumps, buttressed by Leimgruber's burbling split tones by the finale. Elsewhere, Demierre's key dusting can swiftly turn to a crescendo of notes plus inner-piano string plucks alongside circular-breathed saxophone tones.
Cooperation and control are triumphantly obvious at the climax of Monkeybusiness 1, when a combination of reed multiphonics, wriggling electronics and pounding keys drive the track to peak excitement that then subtly relaxes into piano glissandi and delicate reed peeps. Willisau proves that if an auxiliary musical voice is properly attached it elevates the results.