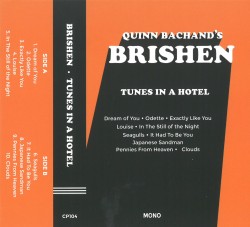 Tunes in a Hotel
Quinn Bachand's Brishen
Independent CP104 (brishenmusic.com)
When I first listened to Cheyenne (Quit Your Talkin') from Brishen's second album, Blue Verdun, I assumed it was a cover of a jazz/pop song from the 1930s. It was surprising to discover this clever and engaging song was written and sung by Quinn Bachand, a young musical prodigy from Victoria. He was studying at the Berklee College of Music (on a full scholarship) and recorded that album in his apartment in Verdun, Quebec while on a semester leave. It is a remarkable trip into a past style creatively re-imagined in the present.
Brishen, Romany for "bringer of the storm," has released a third album, Tunes in a Hotel, which is an idiosyncratic re-imagining of several Django Reinhardt tunes (including Odette, It Had to Be You and Pennies from Heaven). The backstory is dramatic with Bachand's Berklee residence involved in a fire which left his instruments safe, but smelling of smoke. He and other students were relocated to the Boston Sheraton where he recorded this album in room 737! The ensemble sounds tight and feisty with Bachand (at points) playing a borrowed Gibson ES 125 through an "amazingly crunchy 50s tube amp." One striking aspect of these pieces is their crisp economy: with an average length of less than three minutes, the melodies and solos seem compressed and melodically inventive with Eric Vanderbilt-Mathews (clarinet) and Christiaan van Hemert (violin) contributing several excellent improvisations. Bachand's guitar playing is both an homage to Reinhardt and an expression of his own eclectic originality. I highly recommend this retro, low-fi, yet modern revisiting of Reinhardt's catalogue. And I look forward to the surprises of a fourth Brishen album, possibly even recorded in a studio!