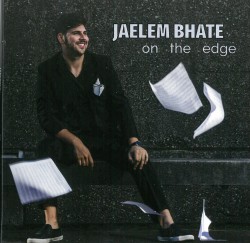 Jaelem Bhate – On the Edge
Various artists
Independent (jaelembhate.com)
Jaelem Bhate's website contains listings for what seem to be two or three different people: conducting competitions in Italy and Romania, an inaugural concert as musical director of Symphony 21 in Vancouver and other symphony conducting gigs. Then a catalogue of classical orchestral, chamber and solo works and, finally, a jazz section where On the Edge is listed as his debut album. Bhate is a very busy person with a range of musical interests.
On the Edge is an ambitious album with a 20-piece band of excellent musicians from the Vancouver area. In his liner notes Bhate says every work "represents some edge in my life, as does the whole album." The title could also represent Vancouver on the "edge" of the ocean and the country. The core of the CD is the magnificent Pacific Suite with four programmatic movements: Straights and Narrows, Weeping Skies, Uninhabitation and Sea of Glass. Straights and Narrows contains slower and faster sections with a few drum solos that could reference the movement of water through narrow straights and onto the beaches, Weeping Skies begins with an elegant pizzicato bass solo which sounds like individual drops building into the steady rain we expect on the West Coast. Sea of Glass opens with an up-tempo piano and bass duet that could be a soundtrack for a floatplane gliding low over a pristine and still harbour. The plane lands when the horns enter and the beat switches to a punchier swing feel with a jaunty melody.
On the Edge is well produced with a great band and excellent solos by several musicians including Steve Kaldestad on a soulful tenor saxophone. We can only hope Bhate adds to his résumé with more jazz projects in the future.