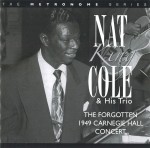 The Forgotten 1949 Carnegie Hall Concert
Nat King Cole
HEP Records CD 91
David Lennick, local music collector and archivist has, since the 90's, made a living restoring archival recordings. Recently he came up with a winner - a November 4, 1949 recording of Nat King Cole and his trio at Carnegie Hall, never issued until now.
Irving Ashby, guitar, Joe Comfort, bass and Jack Costanzo on bongos make up the trio and the programme consisting, for the most part, of familiar material flows along as smooth as silk with Cole's smoky voice making each song sound as if it were written for him. At the time the group was touring as a double bill with the Woody Herman Orchestra which plays on the last cut on this CD.
The concert was recorded on acetates, a not uncommon practice at Carnegie in those days. Bass and guitar are somewhat underrecorded, not the fault of the restoration process, and I would have liked to hear more of Nat Cole the pianist, but it does not take away from the overall feeling of being present at a pretty special event.
Congratulations to everyone involved in making this performance available. If you are a fan of Nat King Cole, and who isn't, you will want to add this one to your collection.
This CD is on HEP Records based in Edinburgh, Scotland, owned by Alastair Robertson. The label has a catalogue of historically significant recordings which can be accessed at www.hepjazz.com.