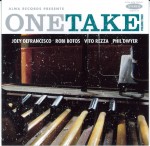 One Take Volume Four
Joey Defrancesco; Robi Botos; Vito Rezza; Phil Dwyer
Alma ACD11912 www.almarecords.com
One Take is exactly what it says - a freewheeling session of straight ahead jazz with no rehearsal, no edits, no overdubs - just four masters of their craft blending their skills together to create almost an hour's worth of high octane jazz.
Reticent, never - fiery, always and they take no prisoners when the music starts. Everybody is at the top of his game, although as a saxophone player I feel I have to single out the playing of Phil Dwyer who couldn't play poorly even if you paid him to. Over the years he has developed a maturity and depth in his playing which make him stand out in any musical setting. Having said that, every player on the session puts his stamp on the music and you just know that to hear this band in a live setting would be an experience to remember
It's a well balanced programme, ranging from a lyrical reading of the Dorothy Fields, Jimmy McHugh classic Tenderly to a roaring version of Broadway by the team of Wilbur H Bird/Teddy McRae/Henri Woode. All four musicians are well-known to Toronto audiences, Rezza and Botos being very active on the local scene. DeFrancesco is a frequent winner of the Downbeat Critics' Poll, while Dwyer spent 15 years in Toronto before moving to Vancouver Island.
So take five and give "One Take Volume Four" a listen.