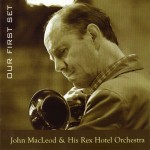 Our First Set
John McLeod's Rex Hotel Jazz Orchestra

http://www.johnsjazz.ca/
In my column last month I suggested that there are three ingredients to look for in jazz - swing, melodic content and a knowledge of the roots. You don't have to look any farther than this excellent CD. John MacLeod is one of the most committed and complete musicians I am privileged to know and his dedication and musical philosophy are stamped on this programme of originals and great standards. Four of the originals are by John with additional contributions from Gord Sheard and Mike Murley. Add three superior standards, one of them arranged by Rick Wilkins, and you have one of the most rewarding albums I have heard this year. It also serves to underscore just how many great players we have in this city. Featured soloists include Andy Ballentine, Joey Goldstein, Terry Promane, David Braid, Perry White, Jon Challoner, Brian O'Kane, Alastair Kay, John Johnson and Mike Murley. The rhythm section is rounded out with Jim Vivian and Ted Warren giving a great foundation for this star-studded musical organisation.
I can't choose favourite pieces from the album. There are so many gems.
This is not a recording you will listen to once and put on the shelf. It deserves repeated playing and will give pleasure many times over.