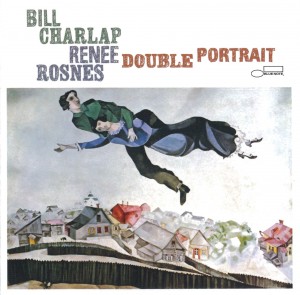 Double Portrait
Bill Charlap & Renee Rosnes
Blue Note 509996 27560 2 0
Successful piano duets call for the ability to listen to each other bend a little, give up some ego and converse with each other. Oscar Peterson and Count Basie, Willie "The Lion" Smith and Don Ewell, Duke Ellington and Billy Strayhorn, Dick Wellstood and Dick Hyman all demonstrated the art of duet playing.
Add to the list the team of Charlap and Rosnes. This is the first duet recording by these two outstanding pianists. It is a sensitive, beautifully played, beautifully recorded set of superior compositions which demonstrate just how well this husband and wife team blend their talents with an intuitive understanding of each other.
There is one original by Rosnes, The Saros Cycle and the eight additional tracks include the seldom heard Little Glory by Gerry Mulligan, Inner Urge by Joe Henderson, Double Rainbow, by Antonio Carlos Jobim and Howard Dietz, and the Arthur Schwartz standard Dancing In The Dark.
Musical magic happened when this album was recorded December 27-29, 2009 at the Kaufmann Concert Hall, 92nd Street Y, New York City. The playing throughout is flawless and it is to be hoped that it will be only the first from this enjoyable and satisfying collaboration.